Our smartphones go with us everywhere – to the mall, to work, to the gym – wouldn't it be nice if we could easily take them on the trail as well? With Quad Lock Mounting Systems, you can take smart phones on the trail after they've been carefully mounted to your bicycle. OCDesignsonline's client approached us to create a great-looking custom eBay design that would help them sell more of these neat little gadgets. We've done a great job meeting their request.
Because there were only two colors – blue and white – in our client's logo, we had a lot of wiggle room when it came to customizing the design. We took the blue from the logo design and used it throughout the site, but we also added in a spring grass green as an accent color. We think it looks great!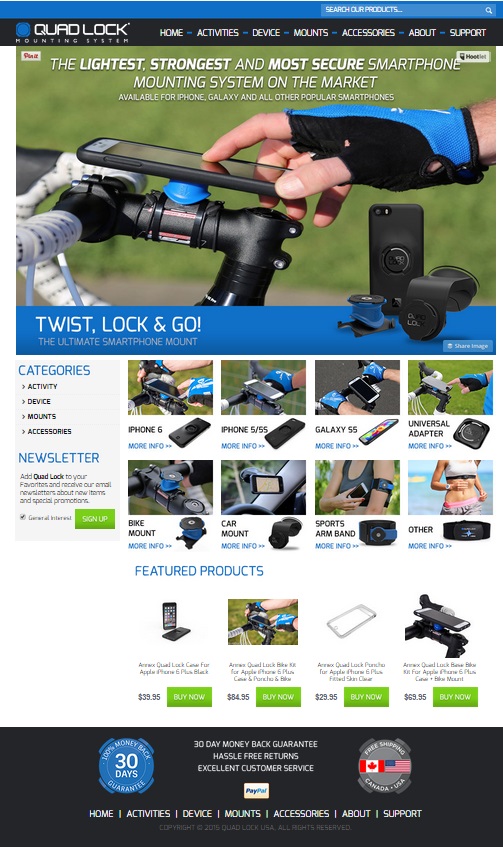 The header helps customers to identify the product
We wanted Quad Lock Mounting System's customers to be able to identify quickly and easily what product it was that our client was offering for sale. Thus, we went big and bold when it came to the header. Upon landing on the eBay storefront, customers will see the entire header above the fold. At the very top of the store is a search bar so that customers can search by specific product. The menu has everything customers need to know about purchasing from our client within the different options. The header image shows a man mounting his smartphone to his bike so that he's ready to take the trails.
Categories help customers better navigate the site and boost sales
We wanted to be sure that it was easy for customers to see what was available for their specific needs. Thus, in addition to listing categories in the sidebar, we also made a point to create custom buttons so that customers could click and search for the products they need. Whether someone is looking for a bike mount or a car mount, they can easily search for the products that fit their needs.
Featured products keep customers coming back for more deals
When our clients offer a range of featured products, it helps to encourage their customers to come back to see what's new, on sale, or of particular interest at their favorite eBay stores. We wanted to make sure that our client had the same opportunity to appeal to customers, because this is a great way to pick up some of those more impulse purchasing habits in their bottom line.
Let OCDesignsonline create a custom eBay design for your online store
At OCDesignsonline, we have a wide array of eBay listing templates from which our clients may choose. Please take a moment to browse our portfolio, and when you're ready, request a free quote. You can follow us on your favorite social media channels – we're on Facebook, Twitter and Google+!