Whether you're looking for aids for hunting, target practice, or just to collect, it's nice to get a good deal. When Unlimited Wares approached OCDesignsonline for help with a custom eBay sporting goods store, we were happy to help. We wanted to help them meet their sales targets, and we wanted them to be happy with the designs we chose for their site.
We kept things simple. We kept a clean white background so that our client's products would have center stage without any distraction from design elements. We stuck to straight lines and barely-there tone on tone accents to create borders around images and elements of the page. We're pleased with how crisp the page looks.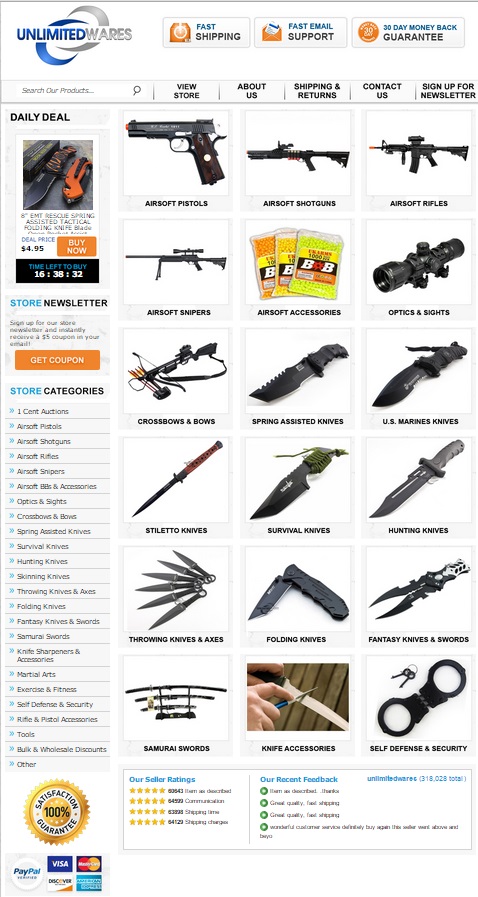 We got right down to business working on the store
Rather than use a flashy header image, we decided to let the store's categories speak for themselves. We included the store's logo at the top of the page as well as the store's unique selling points. In the menu bar, we included the store's search bar, as well as navigation so that customers may find exactly what they are searching for within the store. Following that, we have the store launch into its wares – categories of sporting goods and the daily deal.
Keep customers coming back with daily deals that change regularly
When you want to build a solid customer base, it's not enough to just have good products. You have to give them an incentive to visit your store. Therefore, for this eBay sporting goods store, we made sure to create a daily deal plugin box where our client can feature a different item on sale each day. This can create a great incentive for customers to be repeat shoppers – and it helps to inspire impulse purchasing.
Custom category image buttons and categories in the sidebar
By including product images on the category buttons for this eBay sporting goods store, we made it easy for customers to navigate and find what they're looking for. In addition to category breakdowns mid-page, we included further category breakdowns in the sidebar. This allows customers to navigate through the store no matter what page they are on within the store, helping to boost sales and increase our client's profit margins.
We included a feedback plugin so customers can view the store's rating
In order to maintain transparency, many eBay stores are choosing to display their feedback ratings right on their storefront. Doing so can help increase confidence in purchasing from our client's store.
Contact OCDesignsonline today for help constructing your eBay sporting goods store
At OCDesignsonline, we have a wide array of eBay listing templates from which to choose. To get some good ideas on how we can help you with your store, browse our portfolio. When you have something you like in mind, request a free quote. Also, don't forget to find us on Facebook, Twitter and Google+!