Data storage is important, and data proliferates quickly. Sometimes, a new hard drive – or even a hard drive upgrade with more memory is unavoidable. Hard Drives For Sale had some upgrades of their own to perform when it came to their custom eBay store. At OCDesignsonline, we wanted to step in and help them take their site to a whole new level of success.
As always, we began our consultation by asking what they wanted their store to convey to customers. When it was time to sit down and begin designing, we pulled the blue and red colors from the logo. That way, we could carry the logo colors throughout the site in the headings and fonts, including with a slight red hue in the header's image.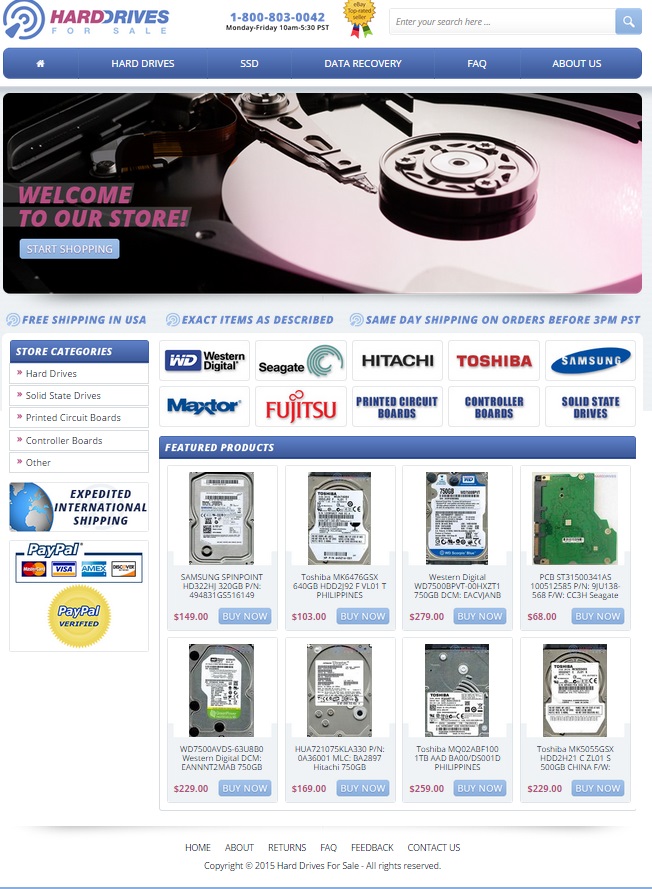 The header pulls customers into the eBay store
We wanted customers to be able to determine easily where to find what they needed when visiting the custom ebay store belonging to Hard Drives For Sale. At the topmost part of the page, the logo, phone number, eBay top-rating badge, and search bar can be located. The main menu allows customers to browse hard drives as a whole or see information about SSD and data recovery. The company's FAQ is also located here. Underneath the menu bar is a close up image of a hard drive, tinted with red, inviting customers to click and browse.
Unique selling points distinguish this custom eBay store from others
We wanted customers to know what made Hard Drives For Sale unique when compared with other hard drive retailers, so we listed out the store's unique selling points. It is easy to see at a glance that they offer international shipping, accept PayPal, and offer free shipping through the United States.
Customers can search by brand name
While we have the standard categories listed in the left sidebar for the store, we also listed out the most popular brands of hard drives, making it easy for customers to find the make they need for their own machines. It was important to us that it would be easy for customers to find the brand they were looking for so that they would be more likely to stay and browse the site longer and have a higher level of satisfaction.
Featured products make shopping easy
We created a two-row featured items space so that our client could easily list products that are new, of special interest, or on sale. By promoting regular items as "featured," custom eBay stores can experience greater success with sales and enticing repeat customers into the store to see what the latest featured items are.
We can help you upgrade your custom ebay store to new levels of success
At OCDesignsonline, we can create any kind of custom eBay store you need. We have a wide array of eBay listing templates to choose from in our repertoire. Take a moment to browse our portfolio, and when you find something you like, request a free quote. Also, don't forget to find us on Facebook, follow us on Twitter and check out our Google+ Page!