From Monopoly to Halo, everybody loves a good game. Board games, computer games, video games – they're all a great way to pass time and gather family and friends together for an evening of entertainment. When Hexir Game Wholesale approached us to help with their new eBay store design, at OCDesignsonline, we were more than happy to help.
The logo for Hexir is a vivid aqua blue color, and we wanted to carry that color throughout the whole custom eBay page. We used it for the unique selling points, in the header image, and in the category image boxes we created. We carried the same theme throughout the custom category page and listing pages that we created for our client.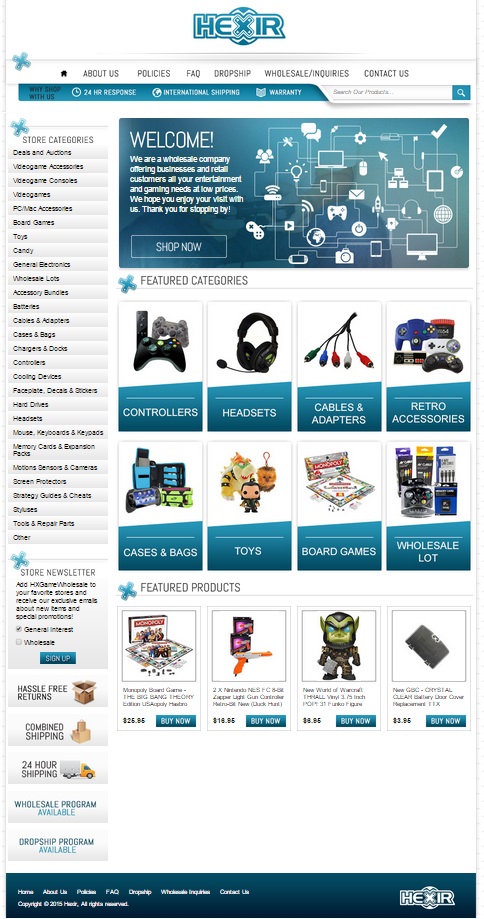 Getting control of sales with a streamlined design
We wanted to help our client boost sales, so we created a design that was sure to appeal to gamers young and old alike. At the top of the page is a menu that allows customers to find more information about our client's policies and products. Under that, we listed the company's unique selling points so that customers would know, upon arriving on the store's home page, what it is that sets Hexir Game Wholesale apart from other used and discount game retailers.
The controller 'x' is a nice part of this eBay store design
We thought it would be nice to take the controller 'x' graphic from the center of the company's logo and use it throughout the website to distinguish the different sections from one another. It gives the site a playful vibe, and carries the design motifs and colors throughout, making the store really pop. Customers will find the same graphic throughout the category pages and listing pages.
Grouping things by type helps customers find things more easily
We wanted to help customers searching for specific products find what they ware looking for easily. The categories on our client's site also serve as keywords, helping Hexir to appear in search results on Google. We used images grouping items found in each category together, making the site's design both appealing and easily navigated.
Featured products help boost sales
Finally, we created an area for featured products so that our client could switch out items that are new, on sale, or of particular interest to customers. By having an area of the site that regularly changes, it helps customers to keep coming back, since they know different products will be featured. It also encourages customers to buy things as they see them, even if they are looking for specific items.
Let us create a custom eBay store for your business
Having a professional page is no laughing matter. At OCDesigns online, we have a wide array of eBay listing templates from which to choose. Please, browse through our portfolio and request a free quote when you see a design you like. For many more ideas, you can find us on Facebook, Twitter and Google+.