Many people want the comfort of the indoors while they're enjoying their outdoor spaces. Whether it's an outdoor dining set or just some outdoor seating for enjoying a summer's evening on the porch, the right outdoor furniture can make a home's exterior a haven. When OutletOF Outdoor Furniture Outlet approached us for a custom eBay store, we at OCDesignsonline were happy to create something that would look amazing and drive sales.
We took a lovely backyard scene and used it as the background image for this custom shop. We then situated the main body of the eBay site in the middle of a porch area, so that when customers browse the site, it's like they're looking at an outdoor space. We used the brown in the logo throughout the store, including in the header image. This creates a unified appearance for the site.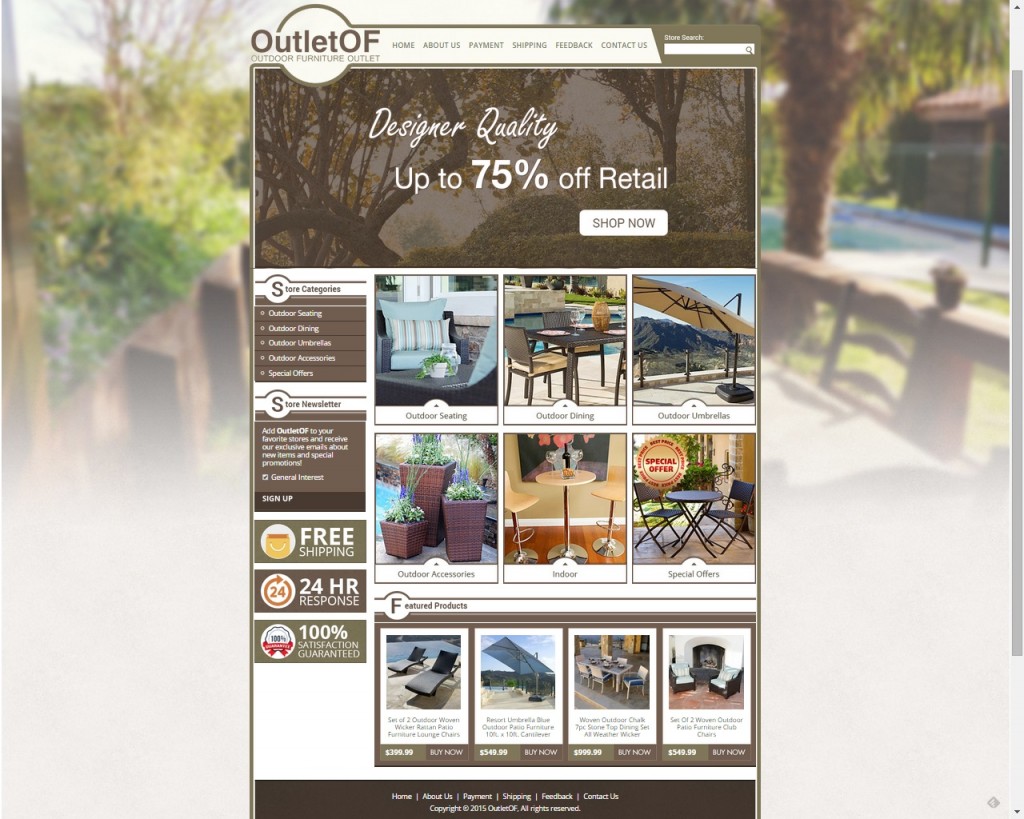 Relax with a cool drink on a breezy porch
We wanted our client's customers to feel really at home while browsing the store. Thus, we kept the custom eBay store as easy to navigate and visually stimulating as possible. We incorporated the site's menu bar into the very top of the header, adjacent to the store's logo. We also included a search bar so that customers could quickly find any information or specific product they were looking for. Next is the main header image, which we tinted with the same brown hue that is in the logo. Inside the image is the unique selling point offered by our client – 75% off retail pricing.
Mimicking the lines of the logo in the sidebar
We kept the same curvature in the logo throughout the site, for a cohesive look. Both "Store Categories" and "Store Newsletter" are in the same style and font as the logo. Underneath these headings, more unique selling points are conveyed with circle images in each box. This not only allows customers to browse the site's categories easily, but it keeps the site feeling like it all fits together aesthetically.
Image category buttons and featured products in this custom eBay store
We used images on the category buttons so that customers would know exactly where to find the type of products they were looking for. Seating, dining, umbrellas, and accessories – it's all here. We even included a "special offers" category, and we created a space at the bottom for featured products. This keeps customers coming back to the website to see what's new and check in.
Contact OCDesignsonline today for help with your custom eBay storefront
We have a variety of templates and designs we can draw on for your custom eBay storefront. Please, feel free to browse through the wide array of eBay listing templates and our OCDesignsonline portfolio. When you find something you like, please request a free quote. We're active Facebook, Twitter and Google+ too, so please be sure you follow us on your favorite social media platforms.