When you need a hard-to-find part for your favorite appliance, don't throw it out! Instead, you can often find just the part you need via an appliance parts store. At OCDesignsonline, we were happy to offer our services to Appliance Tech Parts. We wanted to help create a custom eBay appliance store for them that would boost their sales. We're real pleased with the outcome, and we'd like to share our thoughts with you.
We took the gradient blue in the company's logo and used the different tones from it throughout the site. We used the darker blue in the menu bar and the lighter blue to highlight various buttons and complement the site's color scheme. We wanted the site to feel like it all fit together and found that the blue was a perfect complement to the appliance parts our client is selling.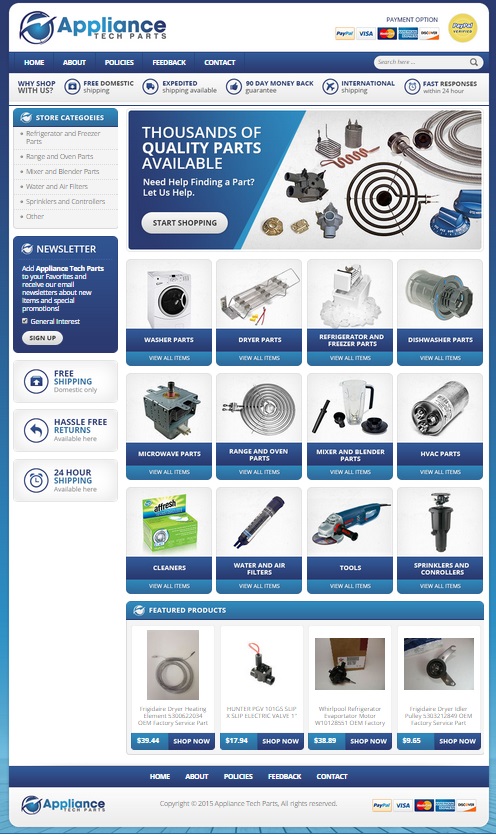 We got this eBay appliance store off to a good start
We started off with the menu so that our client's customers could easily learn about the store's policies without having to scroll through the whole site. We wanted the reference material and the store's unique selling points to be easily located by customers without being obtrusive to the site as a whole. We then created a banner image that depicted the various items that our client has for sale. Guests to the site can start shopping right away or they can further explore the page.
Lots of images for category pages
We wanted customers to find exactly which appliance parts they are looking for when browsing our client's site. Thus, we made sure to create lots of categories with image examples for each category. When customers click on one of the buttons, they go to a custom category page where they will find the various parts associated with that category. We also created custom listing pages so that our client's brand would be visible throughout the entire ebay appliance store.
We placed featured items at the bottom of the page
We wanted to include a place for our client to include different items of interest for the customers visiting the site. Such items can be items of general interest, sale items, new items, or even bestselling items. We included the price and a shop now button on these items to make it convenient for customers to place their orders upon seeing items that they wanted to purchase. This helps our client to have a higher conversion rate.
Whether you need an eBay appliance store or any kind of custom eBay store, we can help
At OCDesignsonline, we take pride in helping our clients to achieve the results they want with their ecommerce pages. Let us help you find the right eBay template for your store. Take a moment to browse our profile, and then request a free quote when you see something you like. As always, don't forget to follow us on Twitter, Facebook and Google+ for regular updates on our latest success stories!