Skin care, hair care, nail care products – all of those things for which you'd go to a drug or beauty supply store – can be found online at the new healthy and beauty eBay store we created for our OCDesingsonline client, Health Beauty Products Central. It was important to us to help them convey to customers that their shop is a better place to find high-quality health and beauty supplies than their local pharmacy.
We wanted to keep the store's website beauty-focused, so we went for a simple look. We used the colors from the site's logo in the buttons on the site, and then used mainly black, white, and gray for the background and menu bars. We felt it was important to be sure that clients could see and focus on the products rather than the design.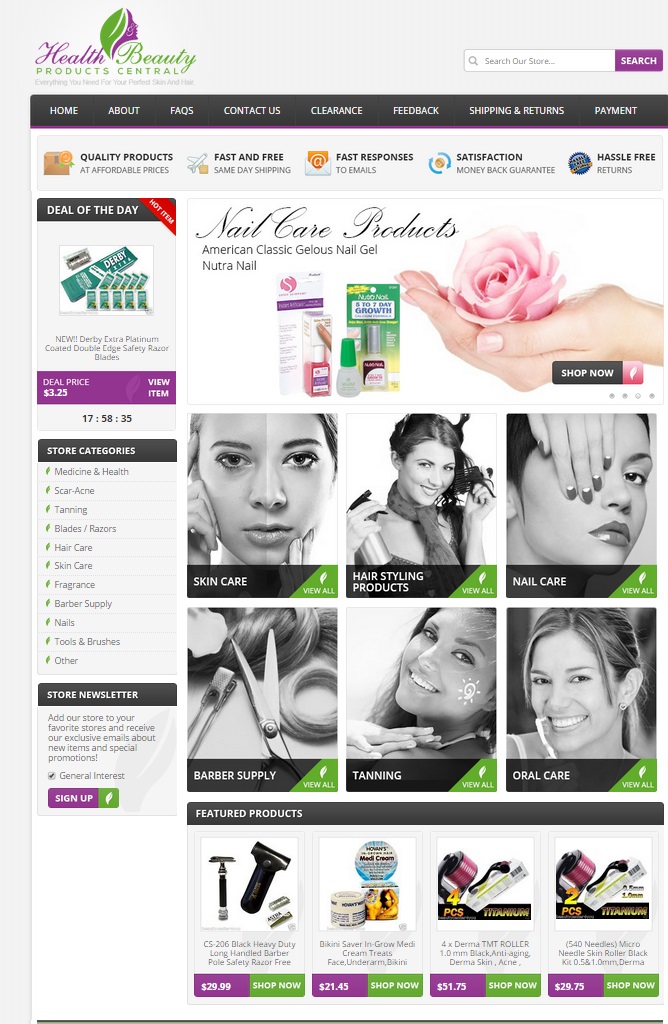 We focused on making this health and beauty eBay store feel like a spa
When you go to a spa, you go there to relax. We wanted our client's customers to feel like they could kick back and enjoy their shopping experience. We kept the header of the site clean – the logo and a search bar are at the top, under that is the menu where customers can find answers to their questions about how the shop works, and then we listed a few of the store's unique selling points. We used a slideshow header image to highlight the different types of products carried by our client. Each slide hyperlinks to a different category page.
Speaking of categories and category pages…
We used images of clean and healthy faces for each category of product offered by our client. In addition, the sidebar lists the various categories of items that customrs will find in this shop. It means that from any search page, customers can browse and find just the items they are searching for. We kept the branding the same on the custom category pages, so that customers wouldn't have to wonder whether they had found the right page or not.
Deal of the day and featured items help boost sales
We created a special deal of the day box adjacent to the header slideshow and an area at the bottom of the site for featured items. This helps bring customers back for repeat business. The deal of the day has a countdown timer on it, so that customers visiting the site who are interested will feel compelled to purchase right away. The featured items gives our client a place where items of particular interest, that are on sale, or that are new can be highlighted for customers.
Let us help you with your custom eBay store design
At OCDesignsonline, we pride ourselves on offering a large selection of eBay listing templates from which to choose. Take a moment to browse our portfolio and when you're ready for us to start work on your project, request a free quote. For more ideas, follow us on Facebook, Twitter and Google!