Get your motors warmed up. From headlights to hood hinges, Mike's Chevy Parts stocks and sells all things Chevy. When they came to us wanting a new custom eBay storefront to showcase their products, we were more than happy to help. At OCDesignsonline, we can appreciate a classic design like that of the C7 Corvette. We wanted to take the automobile's classic shape and apply it to creating a slick and sleek page.
We took Mike's Chevy Parts logo, which has the outline of a classic vehicle and a cherry-red background, and we applied it to the rest of the website. We wanted customers to associate our client's store with the vehicles they (and we) so love. We used a slick black background, chrome borders with red highlights, and crisp white details and accents to drive home that classic vehicle feel.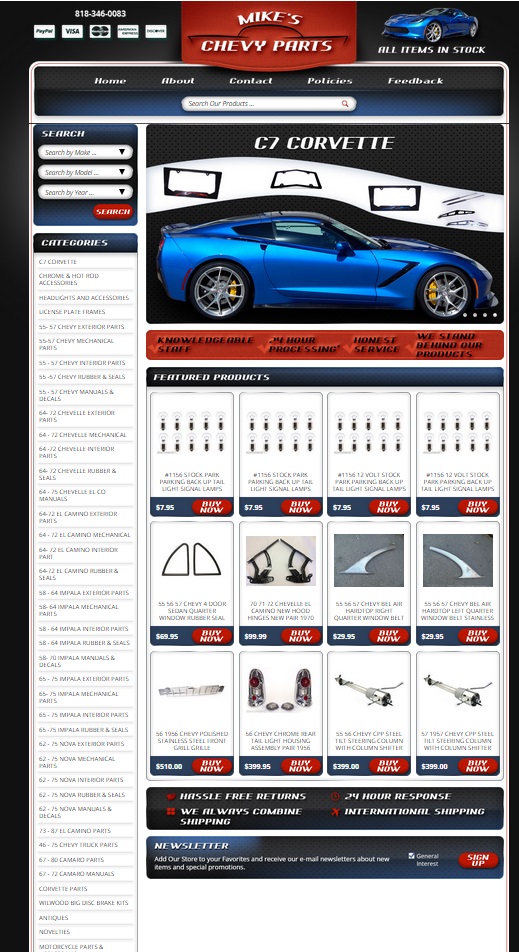 The header steers the customer toward products
We started off the top of the page with smooth, rounded edges. On one side of the centered logo, we have the payment options for customers; on the other side is an image of a Chevy with the words "All items in stock." The navigation menu directing customers where they need to go to have their vendor questions answered comes next, with a rounded search box underneath that. Finally, we created a slideshow banner featuring different makes and models of cars. We followed up with the store's unique selling points next.
We put a search tool in the sidebar
In addition to the standard clickable categories in the sidebar, we created a search tool to help customers more easily find exactly what they are looking for. They can search by make, model, and year, to pinpoint exactly the parts needed. Alternatively, we kept the categories in the sidebar very specific, so that customers looking for specific parts could scroll through and find what they were looking for.
Featured products and "buy now" buttons
We left the main space on the page for featured products. That way, our client can highlight new, featured, and sale products to keep customers returning to the site. We wanted to make it easy for customers to peruse items, see the variety of items carried by Mike's Chevy Parts, and purchase such items. This way, it is easier than ever for our client to convert products into profits.
More USPs and a list-building newsletter opt-in
We closed out the site by listing more of the client's unique selling points. This way, customers can be sure of what shipping policies are and response time should be. The newsletter opt-in allows customers to receive updates on featured products and events, and it helps our client to boost sales.
Let us help you hit the gas on your sales figures
When you want to drive sales up, a custom eBay storefront can help. OCDesignsonline has a large selection of eBay listing templates from which you may choose. Take a moment to browse our portfolio and request a free quote when you spot something you like. Meanwhile you can find us  Facebook, follow us on Twitter and check out our Google+ Page for even more storefront ideas!