Board games are great fun. From Munchkin to City of Iron, from Zombie Town to Slamwich, nothing brings a night of fun like a board or deck of cards and a gathering of family and friends. We were happy to help ecommerce merchant Bring Back Deals with their custom eBay store. At OCDesignsonline, we're always happy to help clients increase their web traffic and improve their sales.
We wanted the site to feel fun to customers browsing it. We used bright colors, inspired by our client's logo design. We used the mint green throughout the site for banners and other notifications. We used the dark blue as an accent color, and we added a lighter blue to really bring home the feeling of playfulness. It was important to us that all the colors coordinated with the colors of the various board games and gaming items that BBD would be featuring in their eBay game store.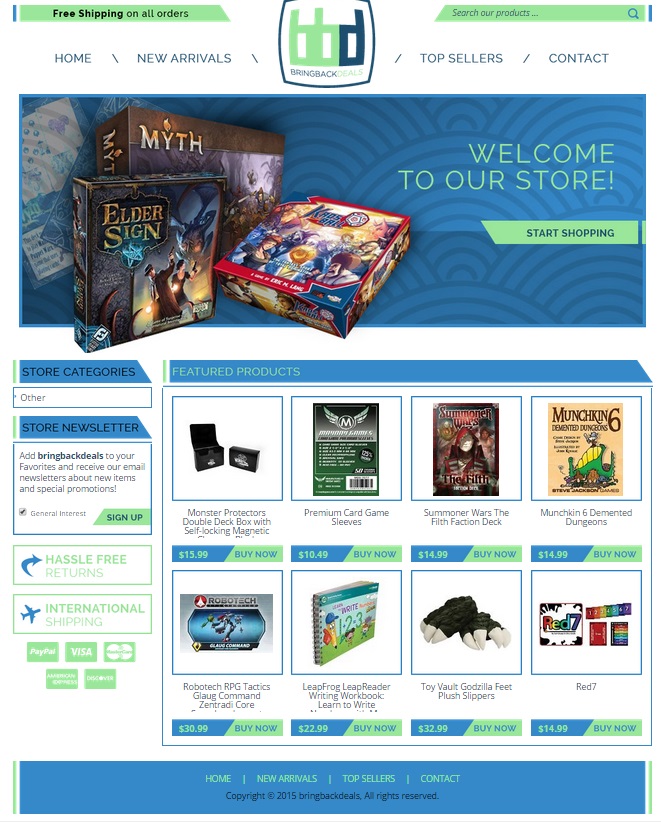 Customers will know exactly what BBD sells
With a name like "Bring Back Deals," it isn't immediately clear just what type of retailer our client is. While customers know to expect low prices and great deals on the site from the name, we wanted to make sure they knew they'd find all kinds of fun and awesome things in this custom eBay store. Thus, under the store's navigation menu, we created a header featuring several different games that customers might find of interest.
Featured items take center stage for this eBay retailer
We gave BBD a fully functional featured items area. Because board games and toys are things that customers are likely to pick up on a whim, we wanted customers to see the latest additions, sales items, and items of interest. By making these items take center stage for our client, it helps to increase the revenue from sales since customers will be more likely to click and make a purchase when they don't have to navigate through the whole site to see what wares are offered.
Custom category pages also help to sell items to the target market
In addition to setting up the custom eBay game store for our client, we took time to make sure all the pages on the site were branded. The custom category pages have the same header colors and sidebar. This makes it easy for customers to know that they're on the same site, and it helps our client's store to look like other ecommerce sites. We also created custom listing templates so that each item for sale had the same branding as the store's landing page and category sites.
Contact us for help with your custom eBay store construction
At OCDesignsonline, we have a wide array of eBay listing templates from which to choose. Take a moment to browse our portfolio, and request a free quote when you find something you like. We share our latest success stories on Facebook, Twitter, and Google+, so please be sure to follow us there too!