Telling time correctly is vital to being able to manage and appropriate time correctly. That's why watches are so vital. However, just because something is helpful when it comes to productivity, it doesn't have to be boring. Our client, Limited Watches came to us for help with their new custom eBay store. We at OCDesignsonline wanted to make it something special – just like the dazzling products they offer their customers.
We wanted to use a color scheme that would catch the eyes of our client's customers, so we chose red. Red and the white background make a nice backdrop for the variety of watches this discount retailer carries. We used a font that was similar to the font in some watches to create a cohesive feeling throughout the eBay store.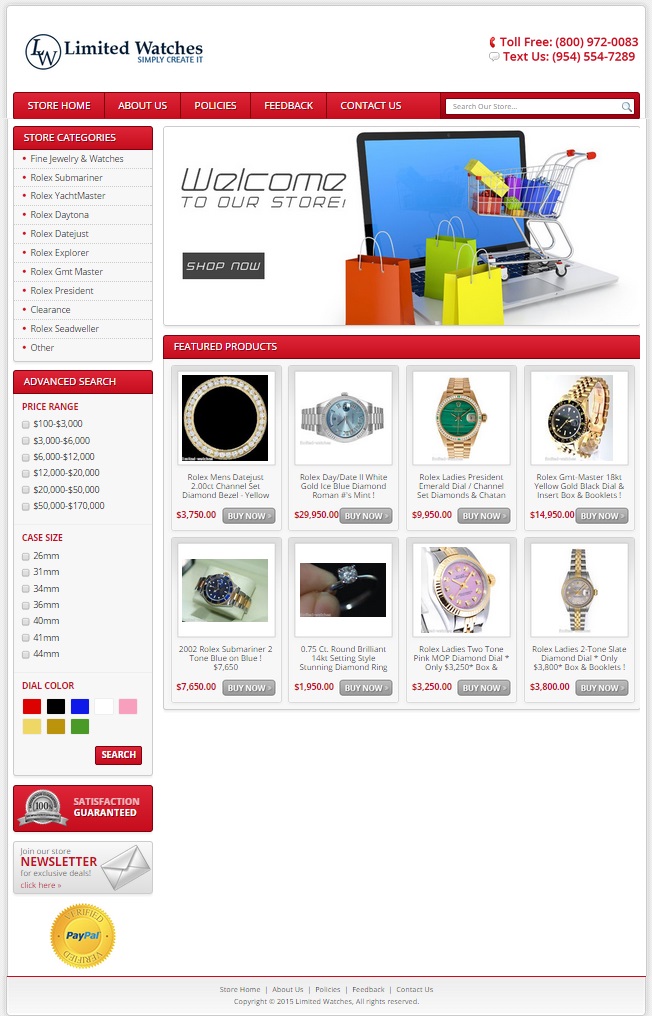 We kept the header minimal to let the product shine
We wanted our client's customers to be able to find the timepieces right for their needs quickly and easily. Thus, we kept the custom eBay store's header simple. We used red for the menu bar, and we included a search bar at the end of the menu bar. We listed our client's phone number at the top where customers could easily find it so they could contact customer service representatives for assistance with their orders. We used an image of a shopping cart and many packages to help convey the sense of values that customers would find on the website.
We kept categories in the sidebar of this custom eBay store
We wanted products to speak for themselves. Rather than list categories in the center of the page, we kept the categories to the left. Customers can search the store by item brand and type, price, size, or color. This makes it very simple for our client's target market to find the items they are searching for, without hassle.
Featured items take center stage – it's all about the watch
We then created a space so that our client could easily feature products. This allows customers to get an at-a-glance sampling of what is available. Because the images speak and tempt, our client's sales will soar – customers can easily make their purchases upon seeing the exact watches they've been dreaming of. We also made sure to include a place where customers can sign up for our client's newsletter, making list building effortless. This all goes to driving our client's conversion rates higher.
Let OCDesignsonline boost your bottom line with our custom eBay store services
While browsing our site, you'll find that we have a great many listing templates from which to choose. If you'd like help driving customers to your eBay store, please browse our portfolio and when you see something that interests you, request a free quote. Keep in touch with our latest ideas by following our social media profiles. We're on Facebook, Twitter and Google+!