There's nothing that compares to the shine of gold, silver, and platinum. From necklaces and bracelets to earrings and bracelets, an outfit adorned with jewelry is really at the next level. Nothing makes a statement like the right jewelry accessories. OCDesignsonline's recent client, Official Jewelry has a deep-down understanding that the best adornments are the ones we save money on, without losing quality.
This custom ebay jewelry store not only offers the traditional baubles that appeal to women, but it also offers men's jewelry. Therefore, we wanted to be sure that the store appealed to both men and women. We took the company's logo, and we made it a watermark image in the background of the site. We used black, gold, and white as the colors for the site, and we stuck with high-contrast images of men's jewelry pieces for many of the button images. This helps to set our client's site out from other jewelry retailers.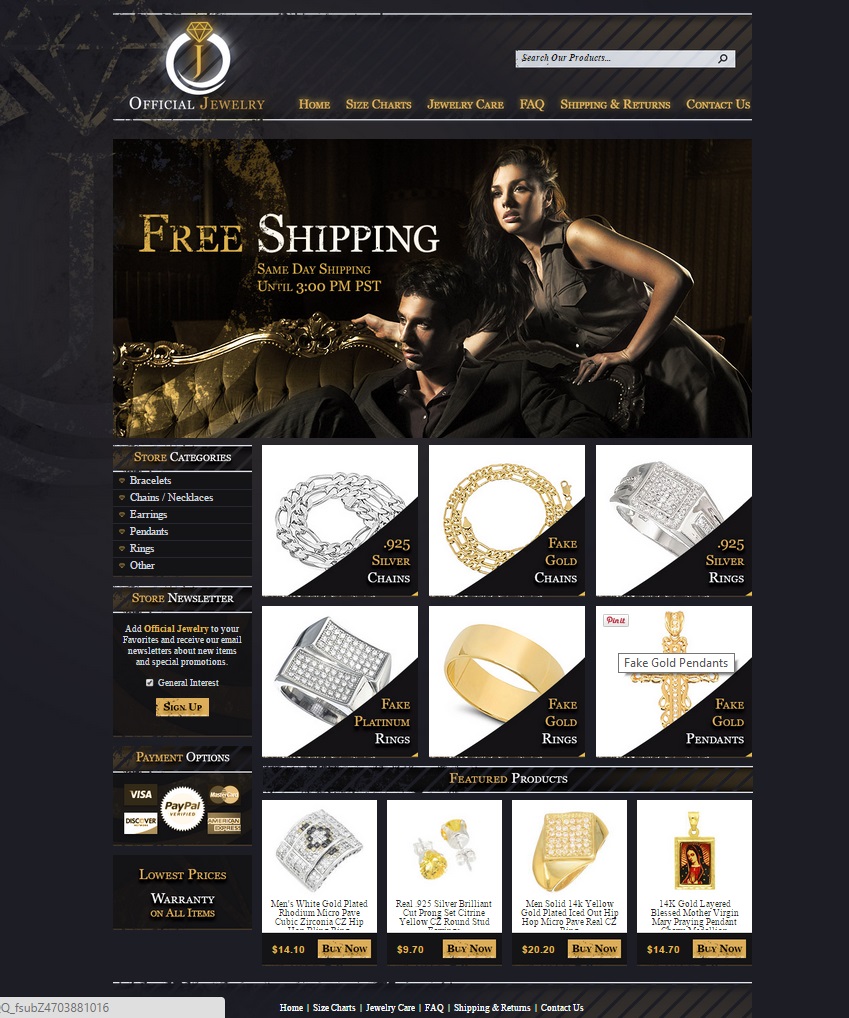 We draw customers in using the site's header
We want the custom eBay jewelry store we created for our client, Official Jewelry, to grab customers from the moment they land on-site. We included the official logo and a search bar at the very top, so that customers can easily find specific items for which they search. Under that, the menu bar helps customers to find out more about the company. Then, we used a header image with a man and a woman in the same color tones as the rest of the site. The pose and the gold highlights project an air of adventure and mystery, meant to appeal to our client's masculine market
We created category pages for this custom eBay jewelry store
We wanted customers to be able to navigate this store easily, so we used images of men's jewelry to exemplify each category of product our client carries. When customers click on a category, either a button image or one of the sidebar category listings, they are taken to a custom category page that we created to help brand our client's business.
Featured items and listing templates help to sell product
Finally, we included a section of featured items so that our client could put sale items, new items, and items of particular interest to customers on display. All of the items in this store have their own custom listing template, helping to sell Official Jewelry's products and build continuing brand familiarity.
We can create a custom eBay jewelry store (or any ecommerce site) for your business
When you want to increase your sales, it pays to have a professional appearance online. At OCDesignsonline, we have a wide array of eBay listing templates from which to choose. Please browse our portfolio, and when you see something you like, request a free quote. Also, don't forget to find us on Facebook, Twitter, and Google+!