Everyone has a favorite character – whether it's Batman, Spiderman, Cinderella, or Peppa Pig. Why not celebrate your love of that character with a special set of linens for your bed? Bright Character Linen is a company that helps you to do that. They specialize in character comforters and have all of your favorites. That's why when the business owners approached us at OCDesignsonline and asked us to create a custom eBay store for their wares, we were more than happy to play.
We wanted to make the site fun and appealing for Bright Character Linen's target customers. We took their logo and expanded it to the background, choosing a palate of orange, cream, and brown as the backdrop for the store. We wanted it to be colorful and convey the type of fun that cuddling with comforters depicting our favorite characters can bring.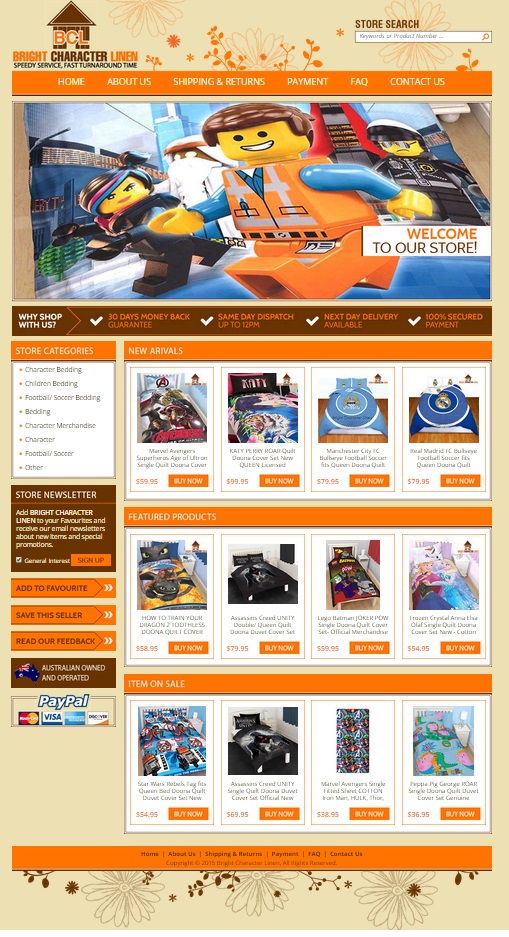 Big fun with big Lego characters
When customers visit the page, a team of Lego characters will greet them. Not only does this help to convey the type of character linens sold in this shop, but it also ties in with the color scheme of the whole site. The Lego construction worker's vest matches the orange in the logo and on the menu bars. His brown hair ties in with the flowers in the background and the house in Bright Character Linen's logo, and he looks like he's on his way to brows some fun comforters.
Headings and navigation menus for easy browsing
We made the words on the heading's menu bar in a larger font for easier reading by the company's target customers. Everything a prospective customer wants to know is contained in the various subject headings on top. We also created a smattering of categories for our client to use for sorting merchandise on the left. Customers will also find an easy-to-subscribe to newsletter box and information about the forms of payment accepted.
Highlighted items in this custom eBay store entice customers
For this store, we created three storefront bars – "New Arrivals," "Featured Products," and "Items on Sale" to help customers see what's new, on special, and of particular interest. This way, our client can create a dynamic storefront, which changes depending upon stock. This sort of format helps customers to keep returning because they want to see what's new and of interest.
We've created a special template for uploading items
We wanted to make it easy for Bright Character Linen to upload new products quickly. Thus, we created a product template that helps our client to do this. You can see that all that the client needs to do is update the information. That way, it all goes exactly where needed, and each listing will have all of the information the client wishes to convey to customers.
If you'd like us to play around with a custom eBay template for your shop
Just contact us for a free quote! We're here to help you, and we have a variety of eBay listing templates you can choose from, and you can browse our portfolio to get ideas. We take your business concept and your logo and we create a custom eBay store for you based on what we see there. Don't forget to "like" our Facebook , follow us on Twitter, and add us to your Google+ Page circles.