Great lighting starts with great wiring. From Edison light bulbs to switches, light sockets, and cord covers, the little details can make or break a home's ambiance. When Vintage Wire & Supply Co. approached us at OCDesignsonline for help with their custom eBay store, we were happy to oblige. The results are an energetic website and that really shines a light on the products this company offers.
We wanted the whole site we created to have a custom feel that reflected the store's themes and products. Thus, we carried the motif in the store's logo throughout the entire site. We used a marbled black background behind the logo, old bricks, and even a photograph of the physical storefront to help assure customers they were in the right place when they landed on the site.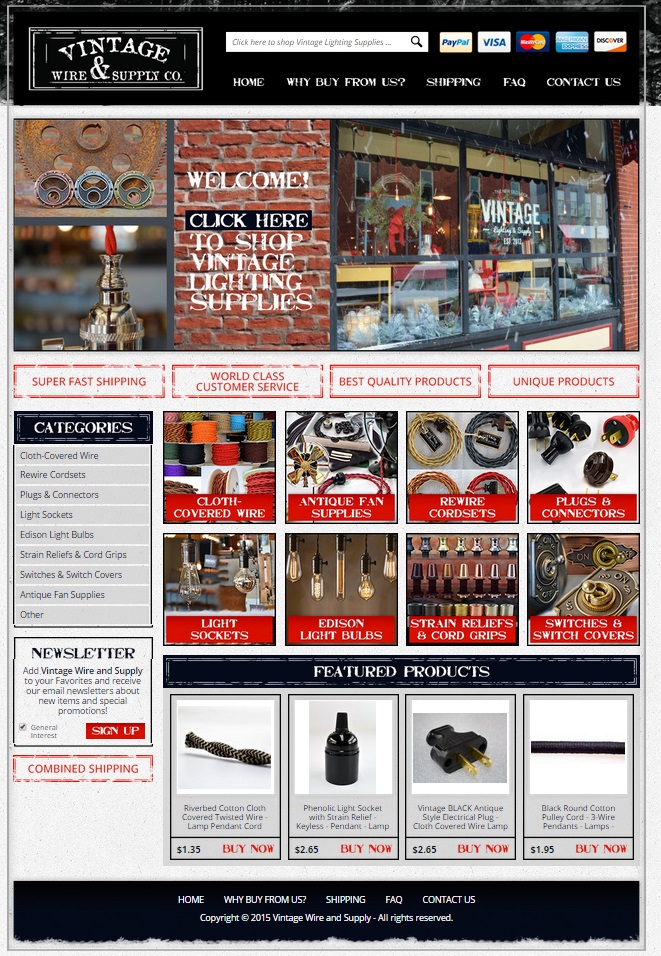 We gave this custom eBay store a vintage feel
We wanted customers to feel that they were stepping back in time when browsing this website. From the colors we employed to the broken borders around the objects we sell, the storefront appears cohesive. The header is a black marbled background sitting behind the store's logo. We included a search bar, images of accepted payment types, and a menu that would allow customers visiting our client's site to find exactly what they are looking for. Under the menu is a storefront image and bricks to carry the mood through the site. We then listed our client's unique selling points.
Categories make things much easier to find on site
We listed some categories for our client in the left sidebar, but we also created image buttons for categories to make things easy to find – and to keep the appearance of the store aesthetically pleasing. Each of the category buttons has a red headline on it, mimicking the broken outlines of the site's USPs. With these category tags and images, customers finding the site will be better able to navigate it.
Features products help to make the sale
In addition to including a space that makes it easier for our client's customers to sign up for a newsletter, we created a space for our client to highlight various products. By having such a space, our customer is able to showcase items that are new, on sale, or just of particular interest to target customers. This helps customers to make impulse buys and helps to increase the site's relevance in Google listings.
We can create a great custom eBay store for you
At OCDesignsonline, we've created a wide variety of custom eBay stores for our clients. We have a wide array of eBay listing templates to choose from on our site. Please browse our portfolio. When you decide what you'd like and what kind of theme you would like your eBay store to have, request a free quote. For more ideas, find us Facebook, follow us on Twitter and check out our Google+ Page!