Antique maps have an air of adventure about them. After all, maps guided some of the greatest explorers in history. Where's the treasure hiding? How do I get from Point A to Point B? What did the world look like 1000 years ago? All of these questions can be answered by looking at antique maps, and Pine Brook Antique Maps has quite the smattering of enticing maps to fuel curiosity, imagination, and aesthetic appreciation.
The owner of this ecommerce store came to OCDesignsonline for the kind of directions we can offer: eBay store design. From the first click on the store's homepage, customers now know what Pine Brook Antique Maps offers and how to find the maps they're hunting for.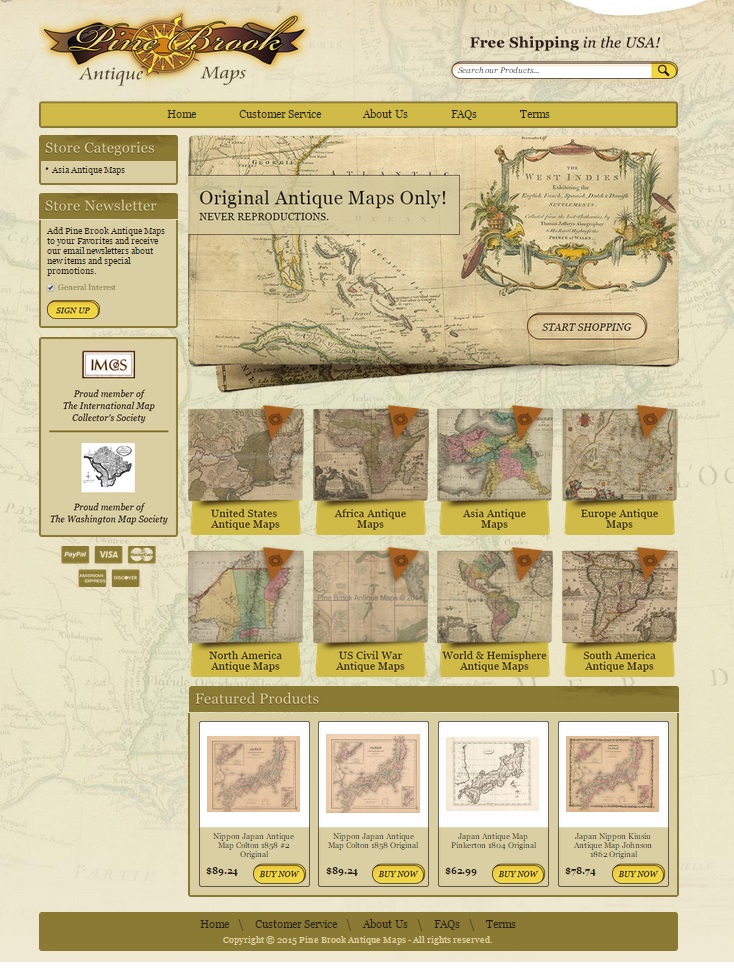 A custom background sets the mood
Choosing an antique map as the background for this custom eBay store wasn't a difficult decision. After all, what better way to set the mood for adventure and site exploration than with the very sort of item adventurers and explorers have relied upon for centuries? We used a muted tone so that the rest of the site would pop off it with our contrasting and coordinating color scheme. You will notice that the cinnamon in the logo pops from the olive and pine tones surrounding it.
A header that pops and stands out from the background
When OCDesignsonline chooses color schemes, not only do we want to keep in tones that reflect the nature of the business, but we also strive to create eBay stores customers will remember. By using a palate of complimentary color pairs, we help the customers of Pine Brook Antique Maps to remember their favorite source of maps from yesteryear.
Making shopping easy with a custom eBay storefront
One of the reasons that our clients want custom eBay store designs is to make it easy for customers to shop. Because competing sites often have a high-tech clean look, with inviting visual content, it was important to us to incorporate a high-level of professional appeal to the site's customers. Here, we use a sample from a map of the West Indies and a promise that customers will find all the maps available to be originals – not reproductions.
Buttons help customers navigate this eBay store
We created buttons for each category of map a customer may be looking for, to make navigation easier. When customers click on the designated button, it redirects to a search page with the results for that category. We wanted to make the site as visually stimulating and user-friendly as possible.
Featured items highlighted and a navigation bar footer
We wanted our client to be able to feature products of particular interest and sale products, so we included a feature products box with images, prices, and "Buy It Now" buttons. This makes purchasing simple for customers coming onto the site and allows our client to offer different specials at different times. The footer has the same navigation features as the header, except the customer doesn't have to scroll back up to the top to find the information he or she is searching for.
Get a quote for your custom eBay store
You'll find that OCDesignsonline has a wide array of eBay listing templates and store designs you can choose from on our site. Please take a moment to browse our portfolio and note any designs that catch your eye. We can match color schemes and themes to your logo and company mission. Request a free quote from us, and don't forget to follow us on Facebook, Twitter, and Google+!