Toys, barbeque supplies, automotive supplies, even clothing – all of these are items you'll find in 21 Hills' custom eBay store. When we at OCDesignsonline were approached by this store, we wanted to make sure we captured their fun-loving attitude. We decided to keep with their logo – hills, and model the rest of the site from this.
We used angular heading bars and the same colors as represented in 21 Hills' logo as the primary design and theme of the site. We wanted to make the site as inviting as possible. Because 21 Hills has a variety of products they sell through their eBay site, we wanted to make sure that customers would stay on the page as long as possible.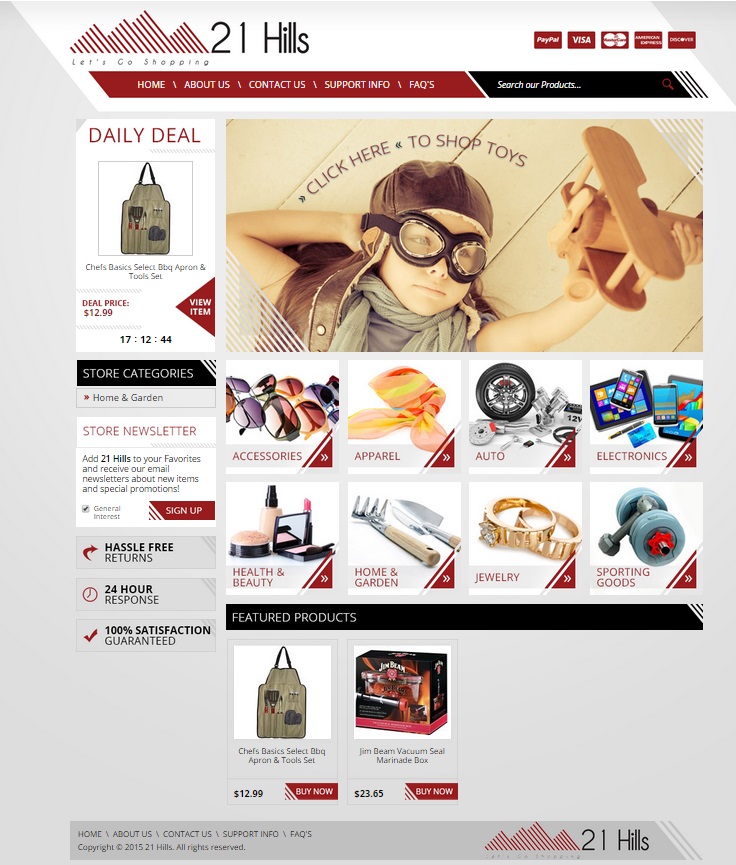 We invite customers in with a nostalgic image
Vintage and retro products are perineal favorites. Customers like when they see images that give them a sense of nostalgia. That's why we used the image of the boy and the wooden plane, finished in sepia tones, for the main image on the custom eBay storefront we created for 21 Hills. The image also serves as a clickable link that will take customers to the category page for toys.
Daily deals get center stage in this custom eBay store
Look to the left of the image with the boy playing. That is prime real estate for this eBay store. That's why we used that space to allow our client to feature a given product each day. This "Daily Deal" box allows 21 Hills to give a product dominance in the store and it is an incentive for customers to browse the store on a regular basis. You'll also notice that we included a countdown timer for showing the duration of the sale on that item.
Custom buttons for each product category
Because our client has so many different products offered, we felt it was important to divide products into the following broad categories:
Toys
Health and beauty
Auto
Apparel
Accessories
Electronics
Sporting goods
Jewelry
Home and garden
By breaking things up this way, not only do we help customers who are searching on databases like Google to find 21 Hills, but we also are helping to direct customers to the categories they want to browse, making it easy to navigate this store.
We even included space for unique selling points and featured items
In the page's footer area, we have a template for featured items. That way, in addition to the daily sale, the client can feature other items that may be of interest to customers. We also listed the client's unique selling points (hassle free returns, 24-hour response) in the sidebar. Everything a customer would like to know about 21 Hills can be found on this site.
Let us help you find the customers you're looking for
Whether you offer a smattering of products or you only are selling products in one category, OCDesignsonline can help. Browse our portfolio of work and check out our listing templates. We're sure you'll see something you like – and when you do, request a free quote. We'll be glad to help you get your eBay storefront up and running in no time at all. Don't forget to follow us on Facebook and Twitter, and add our Google+ Page. We love connecting with you.