A recent study shows that thirty percent of U.S. households with Internet access own one or more tablet. Nearly a year ago close to 70 percent of cell phone owners found themselves checking their device for messages, alerts, or calls, even when they didn't notice their phone ringing or vibrating. Yapper Wireless is here to notify customers that they can purchase both smartphones and tablets at their eBay store. The shop recently took on a custom eBay store design by OC Designs Online and now a custom look goes beyond the background image on the device's screen. Don't miss a notification and don't miss a deal with this shop!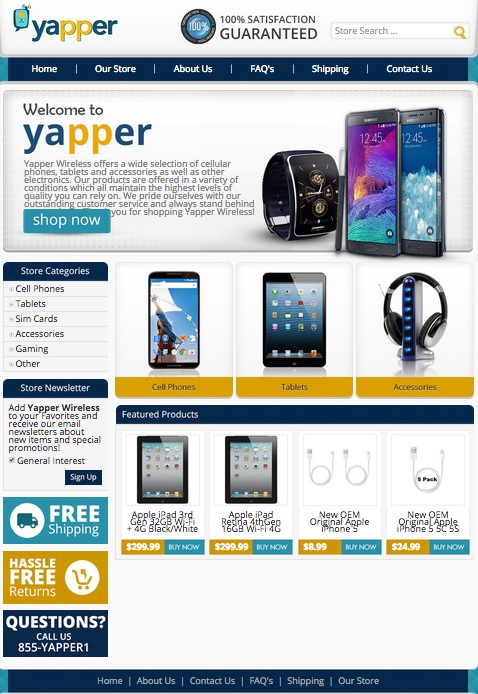 The header of this eBay shop design introduces the online shopper to the store instantly. The deep blue and golden yellow font will be sure to catch the eye of the customer. A satisfaction guarantee lies in the center of the page to bring about a sense of comfort to the shopper. A strong guarantee and easy access to customer support allows shoppers to see that Yapper has nothing to hide. 
A blue information panel lies across the top of the screen hosting various tabs. Customers can browse over shipping policies and FAQs without having to hunt down any details. A custom search tab lies in the top right hand corner to make things simple when searching for a question or product!
The midsection is dedicated to product visibility and store categories. The custom eBay store design has a category panel in the left hand section of the store in a list format. However, for those customers that are visually stimulated, the horizontal category panel has high resolution images to represent the different sections of the shop. Cell phones, tablets and accessories are the top 3 categories for Yapper!
The lower portion of this eBay shop design brings attention to individual products and store perks. The left hand panel hosts tabs that highlight the shop newsletter and promote perks with shopping at the eBay store. Free shipping and hassle free returns are just two mentioned on the shop! The featured product section allows the store to highlight the best deals in the store. Whether it's new inventory or sale items, the deals are always constant at Yapper.
Partner with OC Designs Online for unique eBay listing templates that meet your needs as well as the needs of your customers. Take some time to browse our portfolio of sleek store designs and request a free quote.
Don't forget to find us on Facebook, follow us on Twitter and check out our Google+ Page too!