Although it's never good to rock the boat sometimes the waves and wash take their toll. Boating is a fun hobby but just like most electronics and automobiles, there's often maintenance following the fun. Boating parts can run pretty high when it comes to cost, but at South Central Outboards parts can be found at an affordable price. The boat part supply shop threw out their anchor and took OCdesignsonline on board. With the help of some great graphic designers the store has a new custom eBay store design. The nautical background and theme are providing South Central Outboards smooth sailing with a simple and enjoyable shopping platform. Cruise through these deals with smooth sailing!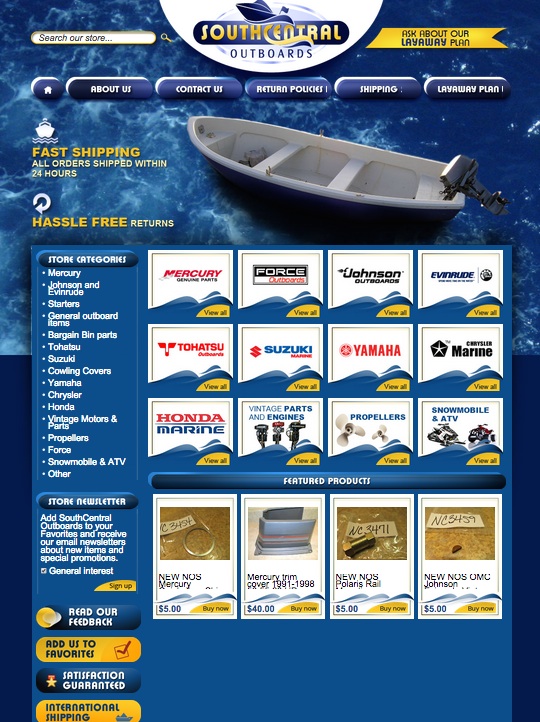 The header of this eBay shop design makes waves instantly. The store logo and name can be found in the middle of this header. A yacht cruises above the store name while the "C" in "Central" makes ripples in the water. Neighboring the store name customers can find a custom search tab and a reminder to ask about the shop's layaway plan. Blue and white layered tabs makeup the information panel in this design keeping with the nautical theme of the shop. Online shoppers can review return and shipping policies, reach customer support and read more about South Central Outboards in the "About Us" section. The layout definitely puts the ship in shipping!
The midsection of this eBay store design is setup to highlight store categories. The list format panel is on the left of the page with the square visual format in the center. The list format lists everything from brand names to bargain bin parts!  The visual tabs showcase popular brands, items found in the shop, and each have a wave-like graphic at the bottom of each tab. The high tide in the graphics will be sure to lead customers to low prices!
Dive into deals where check out is easy and quick! The footer of this eBay shop design features a variety of products directly on the storefront. Deals range from 5 to 40 dollars currently at South Central Outboards. A yellow tab to purchase the product instantly is in the lower right hand corner! 
OCdesignsonline has a variety of eBay listing templates for any specialty shop. You choose the layout and OCdesignsonline brings a new exciting presence to your store. Take some time to browse our portfolio of store designs, and then request a free quote. If you have any questions feel free to ask!
Don't forget to find us on Facebook, follow us on Twitter and check out our Google+ Page!