Appleton, WI, Salmon, ID, Venice, LA, Rapid City, SD, and Centerville, IA are supposedly the top 5 cities in the US for fishing and hunting. Luckily, it doesn't take living in one of these cities to bring out the rifle or throw fishing rods in the back of the truck. Shop Fishing and Hunting carries brand names from Mossy Oak to Ducks Unlimited. The shop has fishing rods, foul weather equipment and hunting accessories galore. After the ecommerce store paired up with OCDesignsonline the shop took on a custom eBay store design to appeal directly to their customers. The brown tones and fish leaping from corners of the page entice online shoppers to hunt for the perfect deal!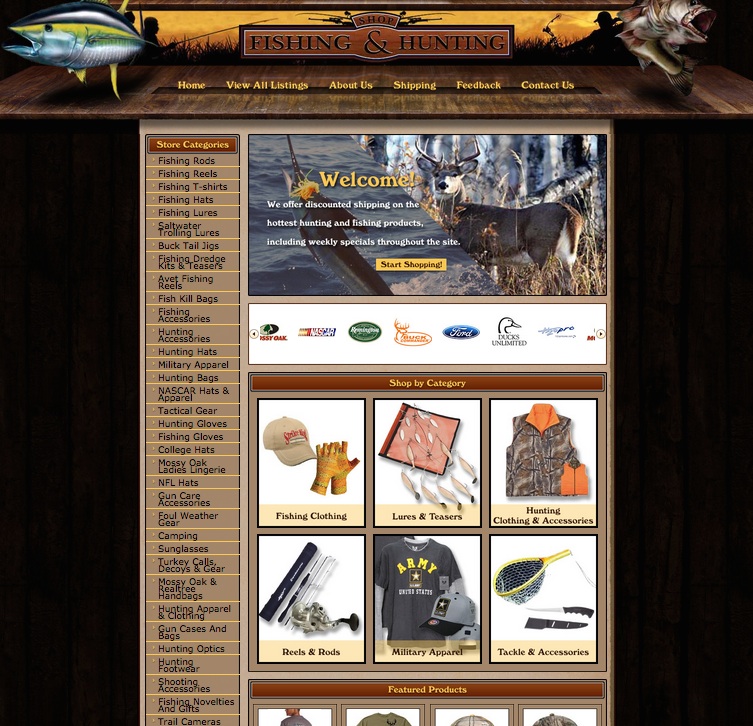 The header of this eBay shop design incorporates mounted fish with a soft sunrise in the background. A fisherman is no stranger to early mornings and this custom eBay store design invites online shoppers to browse both day and night. The store name is front and center with an information panel lying beneath the wooden name plate. Online shoppers can browse over all the listings in the shop, review shipping policies and even find direct access to customer support! Reeling in a good find comes along with top quality customer support at Shop Fishing and Hunting.
The midsection of this eBay shop design enables shoppers to browse inventory easily and quickly. The category section is divided into two divisions. The first is a list format that can be found along the left hand side of the page. Some shoppers may find this section more helpful since the list format allows for more categories to be listed. The other format is for more visually stimulated shoppers. Each square tab holds an image that represents the category group and the name of the section can be viewed at the bottom of the tab with a light yellow background.
The footer is all for showcasing specific items in the shop. It's a great place to list new inventory, sale items, and highlight best sellers. Camouflage sweaters and protective fishing gloves are just two of many items found at this shop!
There's a variety of eBay listing templates to choose from and each layout comes with a custom look for the store. OC Designs Online invite you to browse our expanding portfolio and request a quote to learn more. We customize each template and make it specific to you!
Don't forget to look us up on Facebook, follow us on Twitter and check out our Google+ Page, too!