When a child peers into his or her father's tackle box it can almost be compared to their mother's jewelry box. They might find a variety of shiny colors that sparkle when the sun hits them just right. The hooks all telling a story along with a warning not to touch carelessly. At Orion Fishing and Tackle the story and objects go well beyond what's in the tackle box. The fish and tackle store sells everything from fishing lures to hunting equipment. OCDesignsonline and Orion Fishing & Tackle teamed up for a custom eBay store design that lures in both new and previous customers. The shop is decked out in rope and wood making shopping just like walking along the pier!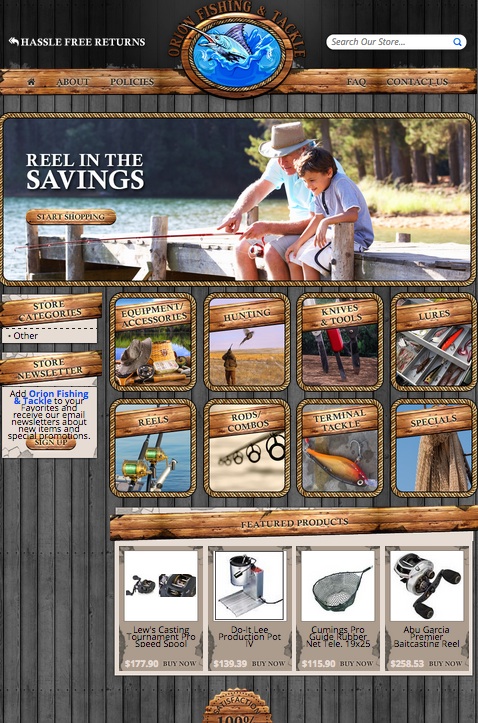 Swords are flying in the header of this custom eBay shop design and in this case it's the bill of a marlin. The store name and logo sit front and center of the shop. Neighboring to the left and right online shoppers will find the store's hassle free return policy and custom search tab. The custom search tab allows customers to browse the shop by entering keywords in the blank field. Getting directly to the point and checking out with the desired item can make shopping simple and easy!
For those customers who want to skim over a variety of products they can turn to the category section in this custom eBay store design. Each category tab has a rope border and wooden plank displaying the category title. Tackle, lures and reels are just a handful of categories listed in Orion Fish and Tackle. Luring in new customers takes on a whole new meaning!
The footer of this eBay shop design is dedicated to showcasing specific items directly on the storefront. This allows easy access to purchasing and often results in grabbing the customers attention right off the bat! The featured product tabs are listed in grey, black and beige tones for a neutral appearance. This allows for the featured items to shine along with the price in a bold font. It's the perfect spot to list best sellers and showcase amazing deals!
OC Designs Online have a wide array of custom eBay templates to choose from on the site. Take a moment to browse our portfolio and request a free quote. You won't be disappointed in the selection. Also, don't forget to find us on Facebook, follow us on Twitter and check out our Google+ Page too!