What do a car, dryer and boat all have in common? There's a belt involved and they can all over heat. A variety of things can go wrong when owning a boat. Propellers can hit an object and misshape enough metal to deem the part ineffective. Objects can rust and everything from fishing wire to salt water can cause damage to the boat. It's at Discount Boat Part Guy that boating parts and items can be found at an affordable price. The shop recently took on a custom eBay store design with OCDesignsonline. The affordable design and custom look has the shop throwing over the anchor and reeling in the sales.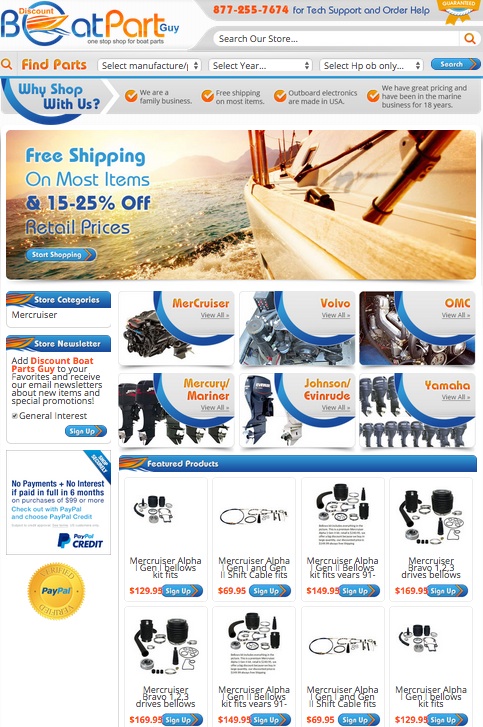 A ship cruises through the 'O' in 'boat' in this store logo. The header of this eBay shop design is decked out in cool blues and warm oranges to mimic the colors of the sunset on the sea. In the top right hand corner of the header customers can find instant access to customer support. A toll free number is in a bold font next to a store satisfaction guarantee. Custom search tabs line the center of the header allowing online shoppers to browse inventory by keywords, manufacturer and year. Sailing off to the desired product is easy in the custom search section!
The midsection of this custom eBay store design is all about keeping store categories in front of the customer. Yamaha, OMC and Volvo all have custom tabs with pictures to represent the products. Online shoppers are visual shoppers and these custom tabs allow the shop to draw customers in further to view specific inventory. A custom store newsletter tab lies on the left hand side of the shop to enable customer retention. Boat owners and repair shops may find newsletters helpful in notifying them of sales and new parts!
Featured products line the footer of this custom eBay shop design. Individual tabs all include a picture, description, price in a bold font and option to go directly to the product. The section is excellent for highlighting best sellers, new inventory and sale items. Simply flaunt the bait and lure the customer in for more!
OC Designs Online have a wide array of eBay templates to choose from on the site. Take a moment to browse our portfolio and request a free quote. Also, don't forget to find us on Facebook, follow us on Twitter and check out our Google+ Page too!