Traveling can be both exciting and stressful. A new destination on the horizon brings about excitement while choosing last minute accommodations can add tension before the trip. Exiting the plane and heading toward baggage claim is the final step before walking out of the airport and smelling the air of a brand new city. It's at Trip Organizers that luggage comes in all shapes and sizes. There's a variety of colors and patterns to match just about any personality. The travel supply shop recently gussied up their storefront with a custom eBay store design and eBay template. It's a breath of fresh air finding affordable luggage with ease and simplicity!

The header of this eBay shop design gives shoppers a firm grip on deals! The custom design resembles a piece of luggage with the handle making up the header of the storefront. The logo and store name are front and center. Beneath the handle shoppers will find a search tab that makes browsing inventory a cinch. Just type in a few common keywords and items matching the criteria will be presented in just a matter of seconds. The information panel lies in the grey top to the suitcase allowing customers to skim over information about the shop, customer support and store FAQs! It's all orderly and ready to go, much like the suitcase!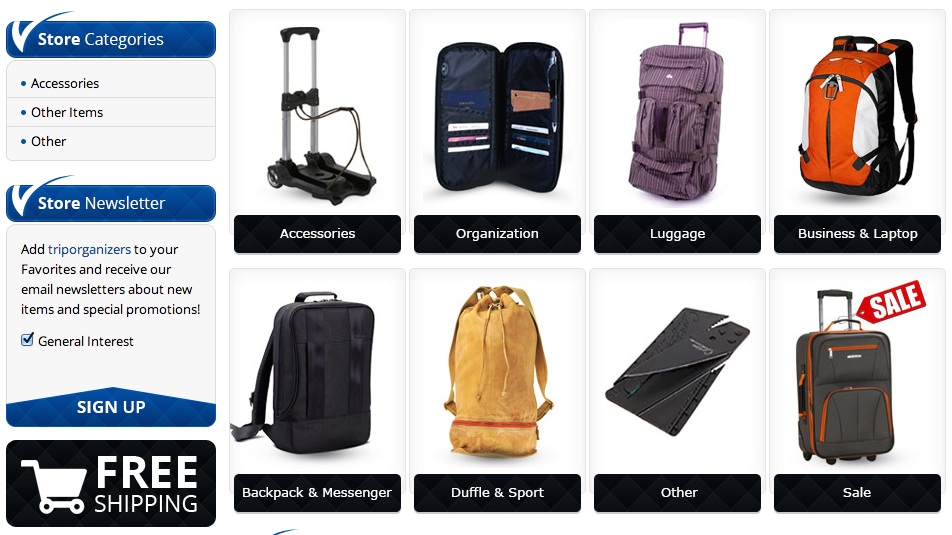 The midsection of this eBay store design places shop categories right before the customer. The left hand section names the categories in a list format. However, for a more visually appealing list customers can browse the tabs taking up 2/3s of the midsection. Each tab has a category name and title along with an image of a product to represent that category. This drives shoppers to dig a little deeper and why wouldn't they with a tab in the lower left corner advertising free shipping? A newsletter sign up tab is above that making sure to always keep interested customers in the loop.

The footer of this eBay shop design places items up for sale in the spotlight. Each tab hosts a high resolution image of the product, brief description, price and option to buy the product instantly. Time will fly by when skimming over items in the shop because the deals never seem to stop!
Partner with OC Designs Online for unique eBay listing templates that meet your needs as well as the needs of your customers. Take some time to browse our portfolio of sleek store designs and request a free quote.
Don't forget to find us on Facebook, follow us on Twitter and check out our Google+ Page too!