Diving under the water brings about a whole new world. The delicate ecosystem to coral reefs can be explored and with the right pair of goggles tropical fish can be seen up close. Dive and snorkel fins allow for both children and adults to explore with ease and speed. It's at OZ Water Sports that underwater equipment helps shoppers discover what's beneath the shimmering surface of lakes and oceans. The shop teamed up with OC Designs Online for an exotic eBay store design and finding the perfect gear is as easy as taking the plunge into the water!

The logo and store name are in the shape of goggles in this custom eBay shop design. The logo resembles snorkel gear which creates a strong brand identity for the shop from the start. A list of blue tabs line the steps in the center of the page. Online shoppers can browse package deals, information about the store and find access to customer support. If the customer has any doubt about shopping with OZ Water Sports they can look to the right hand side of the header. Four different advantages and selling points for the shop are in a bold font which will make it difficult for anyone to miss!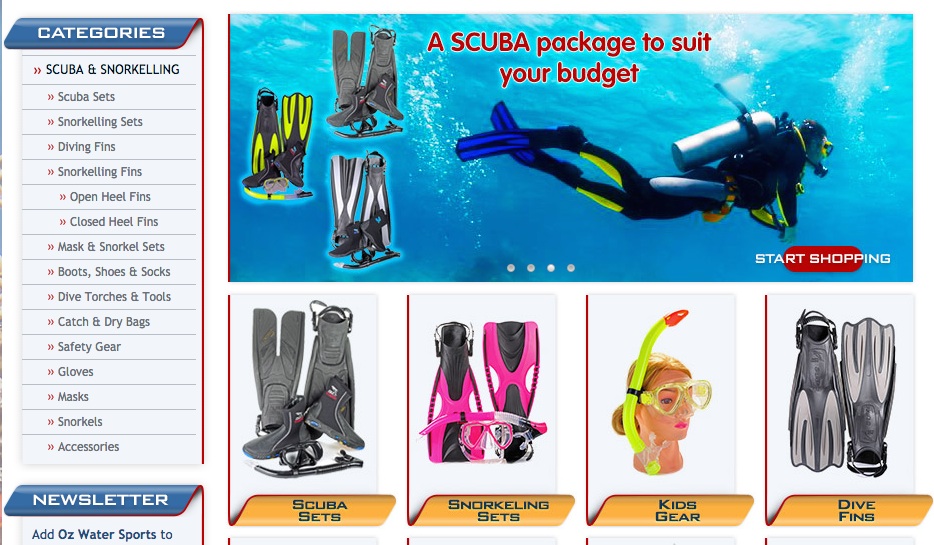 The midsection of this custom eBay store design submerges customers into categories galore. The left hand panel places category tabs in a list format. However, for a more visually appealing category list tabs can be found just a little over to the right. Scuba sets and kid swim gear are just a few category titles placed next to a yellow category box along with a visual of the products! Customers will be diving in to explore just like the scuba diver in the high resolution image placed above the categories!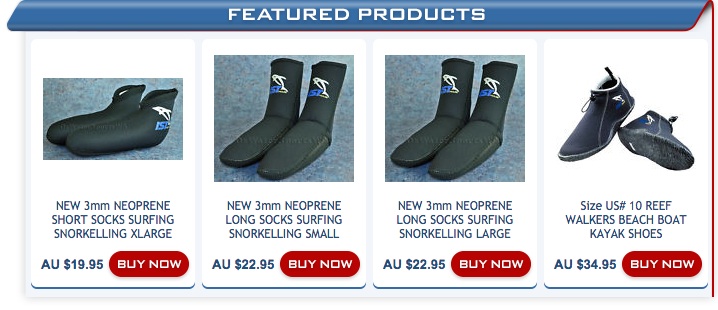 The footer of this eBay shop design anchors the storefront with top quality items for sale. Neoprene water socks line the featured products section. Each tab has a picture of the item, a price and an option to buy the item instantly. Swimming by these deals would be a shame!
OC Designs Online have a wide array of eBay templates to choose from on the site. Take a moment to browse our portfolio and request a free quote. Dive in! You won't be disappointed. Also, don't forget to find us on Facebook, follow us on Twitter and check out our Google+ Page too!