When moving into a new place and accepting house warming gifts a living space can go from bare to cozy real quick. However, as time goes by and guarantees fade minor obstacles can get in the way. Sprinklers can be run over by the tire of your car causing inefficient watering of the lawn and resulting in a high water bill. Blenders and freezers can stop running turning an easy morning task into a nightmare. Dryers can stop mid-cycle leaving the family with a load of wet socks. It's when appliances don't finish the job that Appliance Tech Parts saves the day. The store recently teamed up with OC Designs Online for a custom eBay store design. Now finding the perfect piece to your broken appliance is a cinch!

The header of this custom eBay shop design places the store logo in the top left hand corner. The lettering in "Appliance" fades from a deep blue to a light blue giving the logo a shimmering appearance. A navy blue information panel reaches across the screen letting shopper browse over anything from store policies to customer feedback. The lower panel draws customers into reading why they should shop at Appliance Tech Parts. Free domestic shipping and a 90 day money back guarantee will have shoppers scrolling the shop without having to wonder, "Why?"!

The welcome pane and midsection to this custom eBay store design introduce customers to store categories and products! OC Designs Online knows that online shoppers are visual people. They've placed a variety of items in the center of the page along with a circular tab to prompt shoppers to start searching for appliance parts. A category panel lies on the left hand side of the midsection making it easy to browse the shop based on the appliance itself!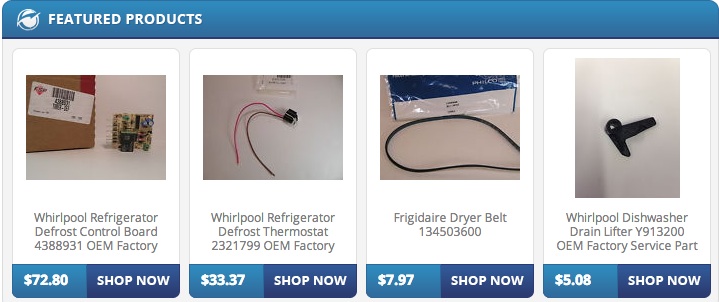 The footer of this eBay shop design is devoted to featured products. The store can place products on the main page and bring attention to new inventory, top sellers or items easily overlooked by customers. A light and dark blue bottom tab highlight the price and option to shop for the item instantly. Checking out and adding the item to your cart is only a few clicks away!
OC Designs Online have a wide array of eBay templates to choose from on the site. Take a moment to browse our portfolio and request a free quote. You won't be disappointed. Also, don't forget to find us on Facebook, follow us on Twitter and check out our Google+ Page too!