There are handfuls of moments worth capturing with a camera. A baby has his or her first Birthday only once. A new puppy can bring smiles and laughs to everyone in the family. Oh, and that trip overseas you've been considering? It'll be captured best with a camera that can do any destination photo justice. The owners at Peach Photo wanted a store design that took their shop to the next level. The graphic design experts at OC Design Online delivered a custom eBay store design that makes camera and lens shopping as easy as using auto focus!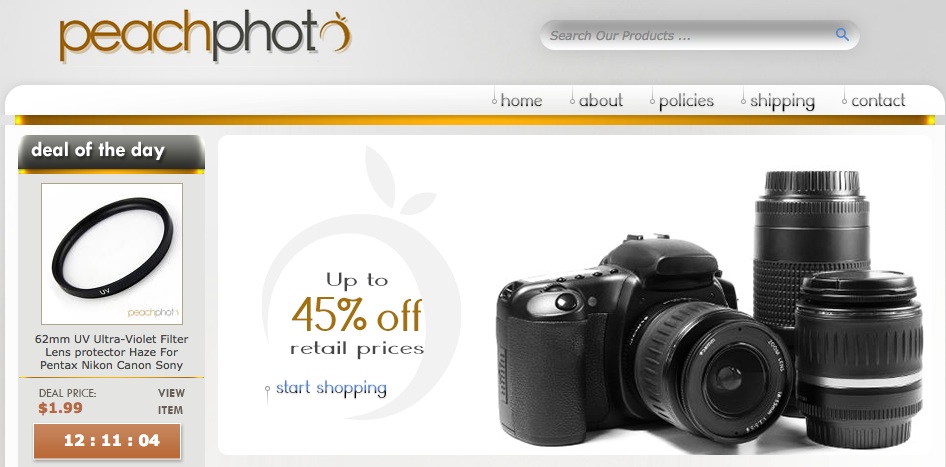 The header and welcome pane of this eBay shop design is sleek and simple. The logo can be found in the top left hand corner of the page. A golden image of a peach lies at the end of the logo and is shadowed below next to Peach Photo products. OC Designs Online knows that online shoppers are visual shoppers so they've placed a high resolution image of a camera and multiple lens on the right side of the pane. Customers can find a tab in the middle of the header to prompt them to start shopping but only after reading over what type of discount they'll be receiving from the shop!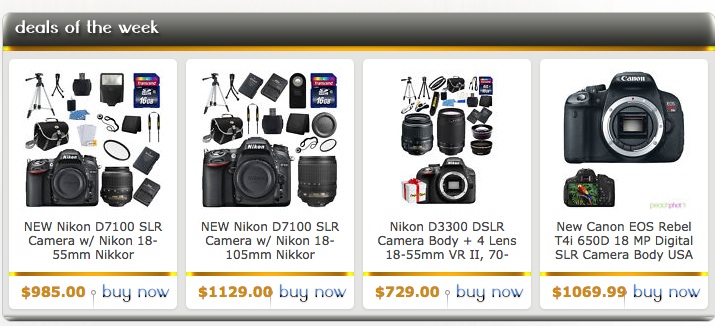 The midsection of this eBay store design highlights the shop's deals of the week. There's more than one! The panel has 4 separate tabs to highlight products and specials. Each tab has a photo of the product and it's accessories clearly displayed. A brief description of what the customer is looking at can be found underneath the image along with a price and option to purchase instantly. The price is placed in a gold font along with other noteworthy items on the storefront. This section is an excellent place to feature discounted products, new inventory or items easily overlooked on the shop!

The footer of this eBay shop design ends the storefront search on a pleasant note. Noteworthy perks with shopping at Peach Photo line the bottom of the screen. Customers can receive free shipping, global delivery and it's topped off with a 100% satisfaction guarantee!
Partner with OC Designs Online for unique eBay listing templates that meet your needs as well as the needs of your customers. Take some time to browse our portfolio of sleek store designs and request a free quote.
Don't forget to find us on Facebook, follow us on Twitter and check out our Google+ Page too!