Tis the season to treat oneself! As the climate slowly drops into freezing temperatures people do whatever it takes to stay warm. Fire places are loaded with wood and add a warm glow to the living room, seat warmers in cars make for a comfortable run to the grocery store, and thick blankets unfold in the air to keep everyone on the sofa happy and comfortable. When it comes to venturing out the same level of comfort can be found in the clothing and boots waiting near the front door. Label Lust is an eBay store that specializes in brand name footwear and apparel. Plush, cozy and knitted shoes make leaving the house less of a chore. Now, shopping Label Lust is easy with their new simple-to-shop eBay store design. OC Designs Online provided a custom label look at an affordable price!

The header of this eBay shop design has a sandpaper yellow panel that stretches across the screen. This section is an information panel where customers can become more familiar with the categories at Label Lust. Men, women and popular labels such as BEARPAW can easily be found at first glance at the sight! Below the information panel is a introduction to a popular product accompanied with a visual of the boot. A dark brown tab prompts customers to "Shop Now" and matches the color of the item displayed!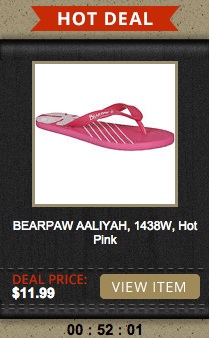 The midsection of this eBay store design warms up with a customized tab featuring the shop's hot deal! Not only is the deal hot but the featured item this week comes in hot pink. A visual of the item is placed in a square frame along with a brief description under the box. Towards the bottom of this custom tab customers can find the price in a bold font. The discounted price can't be missed and neither can the timer counting down the deal to the very last second.
Along with the custom Hot Deal tab the eBay shop design has a custom product description tab. Customers can eliminate unwanted items and exactly what they're looking for in this section. They can skim by category, brand, size and color! Finding that perfect fit in the color of your choice in now a cinch!
You choose the layout and OC Designs Online turns it into your preferred image. Take some time to browse our portfolio of store designs, and then request a free quote. If you have any questions feel free to ask! There's many eBay templates to view.
Don't forget to find us on Facebook, follow us on Twitter and check out our Google+ Page too!