There are numerous activities that people turn to in order to calm and relax after a long work week. Some people choose to heat up some warm water for tea time. However, others may jet for their golf clubs and gloves in preparation for tee time. Cleveland Golf is a website that provides the ideal equipment for the latter of the two scenarios. The store recently reached out to OC Designs Online for a custom eBay shop design. Now shopping on the site is seamless and the uniform design built on the store's brand image!

The header of this eBay store design sets the tone of the shop with a simple and uniform navy and black design. The logo can be found in the top left hand corner of the header. A "G" is tucked into the opening of the "C" to mimic the outline of a course. A navy panel lines the top of the screen to provide a list of categories to online shoppers. It's here that customers can review hybrids, iron sets and single clubs. If it's easier to search for a specific product the keyword tab can be found in the right hand corner of the header. Simplifying a search is made easy with this custom design!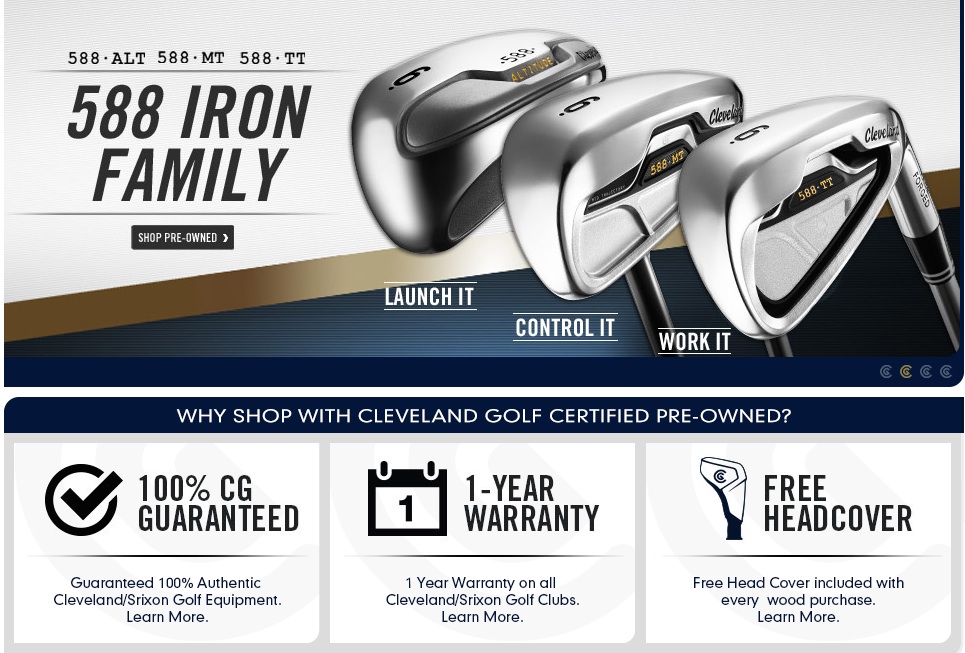 The midsection of this eBay shop design places products directly in front of the shopper along with advantages at shopping at Cleveland Golf. Clubs shimmer and shine and a rectangular tab titled "Shop Pre-Owned" allows customers to dive into browsing inventory. The bottom panel hosts three separate tabs to spotlight advantages with shopping at the eBay shop. A guarantee and warranty are just two of the perks. Read one more and before long you'll be screaming, "Foooore!"

The footer of this eBay store design has a custom "New Arrival" panel to highlight new inventory. Each individual tab has a picture of the product, a brief description, a price and a golden tab to purchase the product immediately! The left hand panel holds a tab for customers to easily stay in the loop. By clicking the "Sign Up" tab they can be put on the shop's mailing list for newsletters pertaining to what's new at the shop!
There's a variety of eBay templates to choose from and each layout comes with a custom look for the shop. OC Designs Online invite you to browse our expanding portfolio and request a quote to learn more. We customize each template and make it specific to your shop!
Don't forget to look us up on Facebook, follow us on Twitter and check out our Google+ Page, too!