Some people say the smaller the box the more expensive the gift. However, British Deals is keeping everyone guessing this holiday season. The electronic specialty store which sells everything from photo accessories to point and shoot cameras is highlighting their specials with a custom UK eBay store design. The site boosts the brand identity, and much like the deals on the shop, it didn't break the bank. Camcorders and other electronics are the perfect gifts for family and friends this holiday season. The New Year can be recorded with ease and kept for life long memories.

The header of this custom UK eBay shop design places the store name in a bold red and blue font. A search tab lies to the right of the store name and logo allowing customers to search for inquiries and products instantly. Inventory and FAQs can be found by simply clicking the red "Search" tab. Below the search tab and logo is an information panel that stretches across the screen. Customers have access to skimming all the store listings, reading up on the shop through the "Who We Are" section and reviewing the store shipping policies. The deals are everywhere from products to shipping costs!

The welcome pane of this UK eBay store design greets customers at first glance! This custom section reaches out to shoppers who may not know exactly what they're looking for at British Deals. By clicking on the red "Contact Us" tab shoppers can receive one-on-one customer support from the shop and have a personal shopping experience via the web!
The lower portion of the welcome pane is dedicated to shop perks. Individual tabs highlight the advantages with shopping at British Deals. Great service and professional consultations make British Deals stand out from the rest!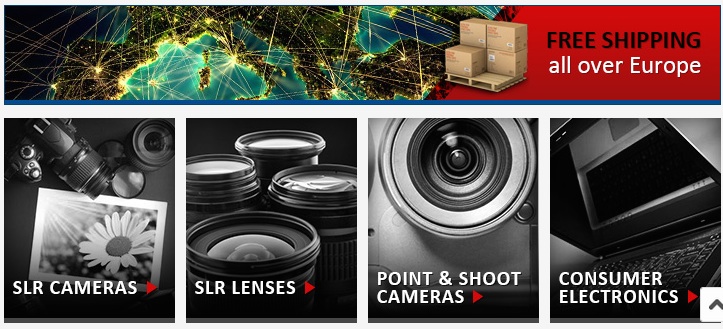 The footer of this eBay shop design brings product categories into the spotlight. Each tab has a high resolution image of the products represented by the category. The category name is in a bold white font at the bottom of the tabs along with a red arrow to point shoppers in the right direction!
OC Designs Online has a variety of eBay templates for any occasion. You choose the layout and OC Designs Online brings a new exciting presence to your shop. Take some time to browse our portfolio of store designs, and then request a free quote. If you have any questions feel free to ask!
Don't forget to find us on Facebook, follow us on Twitter and check out our Google+ Page!