Accessories can make an outfit but these accessories can make the appointment. Watches never go out of style. Endless options of silver and gold make it impossible for one not to match your wardrobe. A simple frame can make for a sophisticated outfit and a dazzling watch can spruce up any subtle ensemble. Alibaba Watches took on a custom eBay store design just in time for the holiday. The shop teamed up with OC Designs Online for a timeless, classic look that makes shopping simple. There's no excuse to be late again!

The header of this eBay shop design has a soft blue and yellow design to it which flows throughout the entire storefront. A colorful information panel lines the top of the screen with individual tabs. Each tab introduces the customer to the shop. Customers can review payment options, shipping policies and find warranties for the products. There's no hiding anything when the first tab provides quick access to customer support. A charcoal grey panel lies beneath the tabs to highlight perks with shopping at Alibaba Watches. Great prices and quality products are just a few of the reasons listed!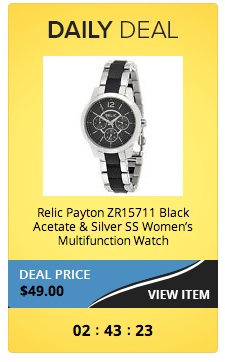 The eBay store design comes with a custom Daily Deal tab in a bright yellow. This is the perfect place to highlight discounted or sale items at the shop. The tab displays a high resolution image of the item up for sale, a brief description, price, and tab to view the listing. Don't wait too long though! A timer at the bottom of the tab lets customers see how much longer they have to make the purchase before the deal expires.

The midsection of this eBay shop design makes it easy for customers to stay in the loop. A blue tab lies on the left hand side of the page allowing customers to sign up for a store newsletter. By simply clicking the yellow "Sign Up" tab they can be placed on a list to have updates on sales, new items and great deals!
OC Designs Online have a wide array of eBay templates to choose from on the site. Take a moment to browse our portfolio and request a free quote. You won't be disappointed. It's the perfect time to show off your eBay store during the holiday season!
Also, don't forget to find us on Facebook, follow us on Twitter and check out our Google+ Page too!