Thrills can be found around every corner in life but adrenaline starts pumping when racing speeds into the picture. Leather jackets and gear go on, helmets fit like a glove, and tires peel off into the distance. No hill is an obstacle and every turn is leaned into for a seamless ride. At A-Squared Racing customers can find speedy shopping and take off with top quality racing accessories. The shop just crossed the finish line with a brand new eBay store design. OC Designs Online took their desired look and implemented a strong brand image for a trophy worthy storefront!

The header of this eBay shop design hits the digital pavement with a fast start. A bike rounds the corner in the store logo in the top left hand corner of the storefront. The shop name can't be missed in a white and red font above the cyclist. Directly to the right is an information panel for customers to get better acquainted with the store. They can become more familiar with the shop itself by reading the "About Us" section, review shipping policies and have direct access to customer support.

The midsection of this eBay store design welcomes online shoppers instantly! The red font pops from the black and white image of a cyclist disappearing into the smoke. A red "Shop Now" tab prompts customers to take a look at inventory with a simple click. However, if online shoppers have a specific item in mind they can use the category tab on the left hand side of this midsection. Brands are listed out vertically to make skimming specific inventory a breeze. It's an easy way to take off in the right direction!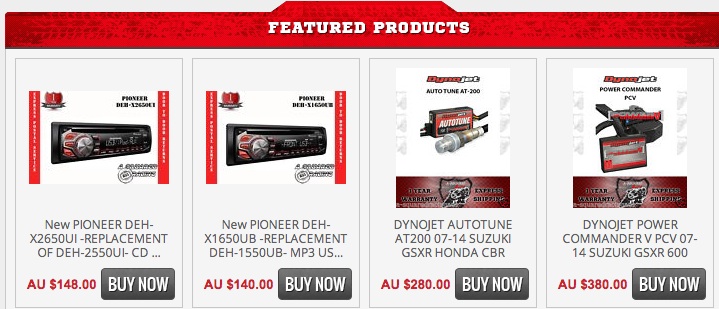 The footer of this eBay shop design is designed specifically for highlighting products in the shop. Owners can showcase new inventory, sale items, items easily overlooked and top sellers! Each tab hosts an individual product with a high resolution image, brief description, and option to "Buy Now" through the Australia eBay shop! The price is in a bold red font so there's no question about the deal before you!
Partner with OC Designs Online for unique eBay listing templates that meet your needs as well as the needs of your customers. Take some time to browse our portfolio of classic store designs and request a free quote.
Don't forget to find us on Facebook, follow us on Twitter and check out our Google+ Page too!