A gun is a powerful tool that can not only provide protection but add a sense of security to any household. The tool itself requires maintenance and has a variety of accessories to make it operate under a safe and controlled environment. Guns Inc. is an eCommerce shop that specializes in firearm parts and accessories. The Veteran operated business went to OC Designs Online for a customized look to their shop. After the expert graphic designers understood what the store wanted the shop left with a custom eBay store design that hit the shop's target in the bullseye! 

The header of this eBay shop design blasts off with a strong brand image. The logo and store name can be viewed instantly in the left corner of the store. A gun shoots a bullet at the logo with a metallic gleam to the name. "Free shipping" can be found in a bold font which easily triggers customers to view more.
An information product panel stretches across the screen in the header of this eBay store design. Customers can easily browse rifle, shotgun and weapon accessories here. Just point the cursor on the category of choice and you're off to view an array of items!

The midsection of this eBay shop design places inventory in front of the consumer's eye. A red "Start Shopping" tab lies in the right hand corner to prompt online shoppers into seeing more products. Meanwhile, a custom tab lies on the left hand side of the storefront highlighting the Deal of the Day. The tab has a high resolution image of the product, a brief description, discounted price and a timer to count down till when the next deal appears! Simply click on "View Item" to see the deal of the day and purchase the product with ease.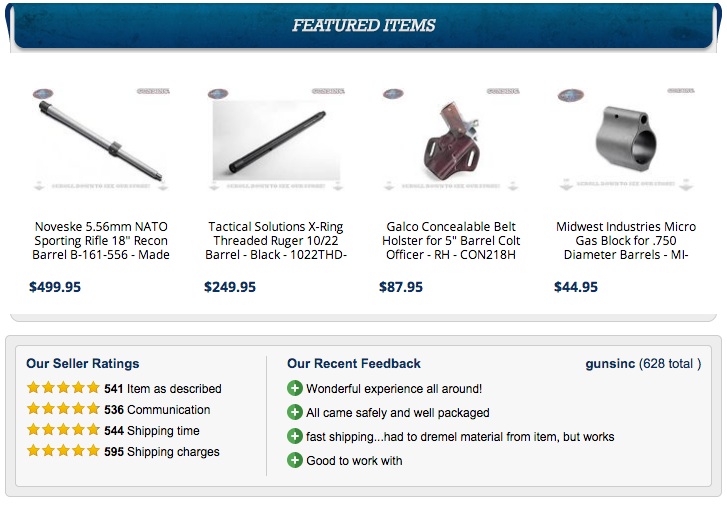 There's a variety of eBay templates to choose from and each layout comes with a custom look for the shop. The above footer spotlights items in the shop with a featured product section along with showcasing ratings and feedback from previous customers. It's easy to shoot at the stars when the shop as so many!
OC Designs Online invite you to browse our expanding portfolio and request a quote to learn more. We customize each template and make it specific to your shop!
Don't forget to look us up on Facebook, follow us on Twitter and check out our Google+ Page, too!