The One World Trade Center opened this week in New York City to the first tenants in the building. The building itself is 1,776 feet high. Living on the edge is one thing but working on the edge is another. As new skyscrapers and buildings flood various skylines many construction workers risk their safety on a daily basis. It's at Fall Protection Warehouse that men and women in the construction business can feel safety from above. The store recently partnered up with OC Designs Online for a custom eBay store design. The red, white and blue layout has a patriotic feel and adds enjoyment to shopping online.

At OC Designs Online there are an endless array of eBay listing templates. The above design brings an active vibe to the shop while giving customers a view from above. The store logo can be found in the top left hand corner. A character of a construction worker with a safety helmet is hooked onto the store name just as customers will be when they leave the shop!
A blue information column lines the left hand side of the store header. It's here that customers can browse over more information about the store, the shop policies and find access to all the listings within the eBay shop. A star shaped tab lies to the right of this section to highlight 24 hour shipping with the shop on most items! At Fall Protection Warehouse safety can on its way within a day!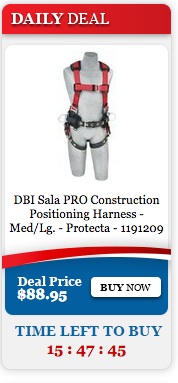 The midsection of this eBay shop design has a custom tab built in for a daily deal! A high resolution image of the product is placed at the top of the tab since most online shoppers are prompted to purchase from visuals. Below the image customers can view a brief description of the product, a bolded price, and find a tab to purchase the item instantly. The bottom of the tab displays a countdown clock for the time left to buy the item. In less than 16 hours the above deal will vanish and a new one will appear!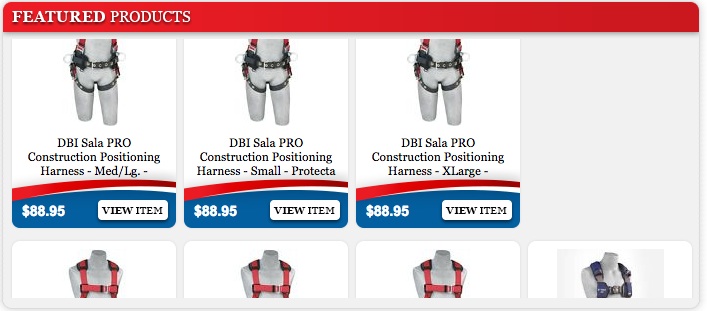 The footer of this eBay store design has an interactive featured products section. Items scroll upwards as seen in the image above. This section is perfect for bringing attention to top products and new inventory. The "View Item" tab will have customers descending right into a page to purchase!
OC Designs Online invite you to browse our expanding portfolio and request a quote to learn more about an eBay shop design. We customize each template and make it specific to your store!
Also, learn more by looking us up on Facebook, following us on Twitter and checking out our Google+ Page, too!