Tablets and smart phones have a way of keeping us out of trouble and saving us time. iPhones can feed us directions and navigate us through heavy traffic. Tablets can let us read novels on the go and allow us to shop online to avoid going out in inclement weather. It's at Digital Life Deal that tablet and smart phone accessories aid in an optimal experience. The store recently teamed up with the graphic design experts at OC Designs Online. Now, with the help of a personal team the store has a custom eBay store design. Shopping is more fun and the brand image is stronger than ever.

The header of this eBay shop design lights a flame to let customers know the deals are hot! The store name and logo are in a white rectangle tab on the left hand side of the storefront. A deep purple and orange font glistens next to the flame. Directly to the right are two separate panels. The top grey panel includes a search tab to allow for easy browsing of inventory at Digital Life Deal. Two seals lie to the right to highlight PayPal as an acceptable form of payment and that satisfaction is guaranteed!
The orange panel allows customers to have instant access to more information about the shop. They can read over store policies, FAQs and find access to customer support. The bright orange tab lights to way to more information on a digital deal!

The midsection of this custom eBay store design keeps category tabs at the customer's fingertips. Larger tabs take up the right hand side of the midsection allowing shoppers to have direct access to tablet and phone cases and accessories. The orange "View All" tab shoots the customer straight to the items that they desire. A separate category tab lies to the left in this midsection. Shoppers have access to the same categories listed in the larger tabs along with a custom "Hot Deal" category section.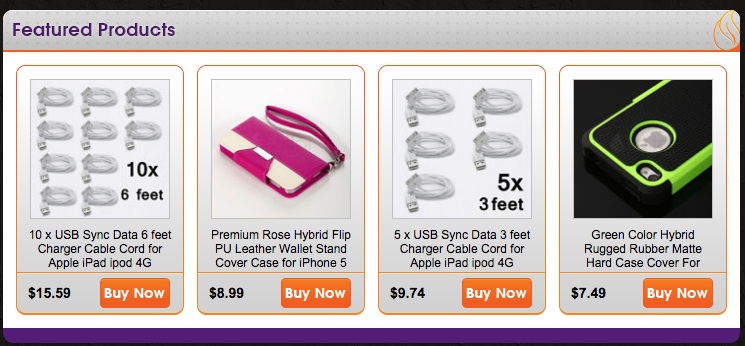 The footer of this eBay shop design if solely for featured products on the site. It's here that the store can highlight specific products with an individual tab. Customers can purchase instantly with the orange tab and know the price of the product at first sight.
OC Designs Online have a wide array of eBay templates to choose from on the site. Take a moment to browse our portfolio and request a free quote. You won't be disappointed. Also, don't forget to find us on Facebook, follow us on Twitter and check out our Google+ Page too!