As Apple and other electronic mobile companies release products new accessories follow behind the latest smart phone purchase. New cases fold around the corners of smart phones to help prevent scratches, dirt and dust from aging the device. New chargers and electrical cords are needed to fit the phone and keep it working. Headsets are wanted so podcasts and music can entertain the owner on the ride home. It's at Butter5Days that electronic accessories line their digital shelves! The store wanted to simplify shopping while building a strong brand name for themselves. They reached out to the graphic design experts at OC Designs Online and now have a customized eBay store design.

The header of this eBay shop design places the logo front and center. An image of a butterfly perches on the corner of the 5 in the store name. Customers will be sure to see the shop name in the bold, glistening font immediately. A charcoal grey information panel lies underneath the logo introducing online shoppers to main topics at butter5days. Customers can view all of the products at the store, review previous customer feedback and find shipping and return policies. Beneath the charcoal panel is a light grey panel. Here the store highlights reasons to shop at butter5days. Free and fast shipping along with great deals are only a few of the reasons!

The midsection of this eBay store design has an image of electronics that light up the screen. A teal tab lies to the left to prompt customers to "Start Shopping." Three tabs lie to the right hand side matching the teal tab on the left for a uniform appearance. The tabs on the right bring attention to perks with shopping at the store. Excellent service and hassle free returns are just two of the reasons that butter5days is the electronic accessory shop for you!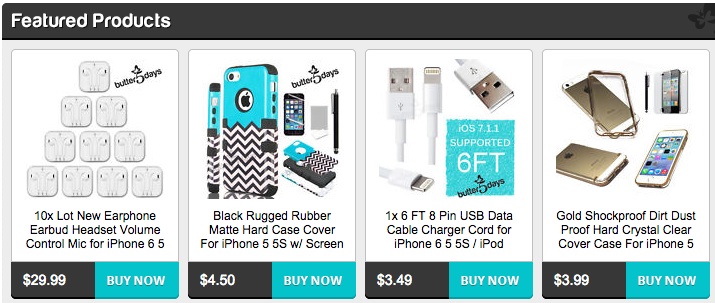 The footer of this eBay shop design allows individual products to grab the customer's attention. Charcoal grey and teal tabs keep the page uniform and highlight the price and ability to purchase the item instantly. High resolution images are placed in each tab to keep browsers wanting to see more!
There are a variety of eBay templates to choose from that offer simple shopping at an affordable price! Take a moment to browse our portfolio and request a free quote. You won't be disappointed. Also, don't forget to find us on Facebook, follow us on Twitter and check out our Google+ Page too!