Apple has a way of brightening up our everyday. The release of the iPhone 5c allowed people around the world to have one of the most appreciated brands in their hand along with a splash of color. However, at Advance World, an eCommerce shop geared toward smart phone accessories, they have a wide array of colorful gadgets for your cell. Car charger adapters and headsets come in a variety of colors to keep your daily tasks more bright and enjoyable. The store teamed up with OC Designs Online for a custom eBay store design. Now, customers can charge up their phones and check out with ease!

The header of this eBay shop design is in various shades of blue for a cool tone to the shop. The A and W combined logo and store name lie on the left hand side of the storefront. The logo is in a yellow circle to beam from the page grasping the attention of onlookers at the shop! Four other circular tabs lie to the right of the store name introducing customers to perks at shopping at Advance World. All day handling and response along with free shipping are just a few of the perks! An information panel lies along the top of the header. Shoppers can review return policies, store warranties, and payment methods all in one spot!

The midsection of this eBay store design is a great way to keep customers in the loop. The left hand tab is dedicated to a custom newsletter tab. The yellow "Sign Up" tab allows customers to enter their email and receive updates from the shop! It's a great way to keep customers coming back for more and staying up-to-date on new inventory!
Category tabs lie to the right of the newsletter tab. Blue labels showcase the titles at the bottom of each tab while bright yellow ribbons hang across the top right hand corners to prompt shoppers into viewing all items in the category!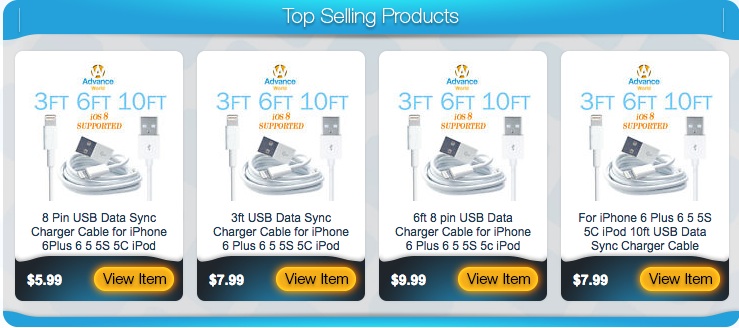 The footer of this eBay shop design is designed to showcase top selling products. Items come with an individual tab, high resolution image and easy access to viewing the item in the shop!
OC Designs Online has a variety of eBay templates for any occasion. You choose the layout and OC Designs Online finds an exciting presence to your shop. Take some time to browse our portfolio of store designs, and then request a free quote. If you have any questions feel free to ask!
Don't forget to find us on Facebook, follow us on Twitter and check out our Google+ Page!