The imagination is something that can run wild. Often there's no catching it and the free spirit to it can keep dreams alive for hours on end. A cape thrown over the shoulders ignite the fuse to magical powers while some steampunk glasses can bring everything extraordinary into focus. It's at Zootzu that Renaissance clothing and steampunk attire transform the wardrobe into a dreamland. The eCommerce shop partnered up with OC Designs Online for somewhat of a whimsical eBay store design. They searched long and hard through custom eBay templates and found the right fit for the shop!


The header of this eBay store design is festival ready! The dated, medieval font makes up the logo in the center on the page. A prominent 'Z' for Zootzu lies front stage in an eye catching red font. Neighboring the logo, directly to the left and right, online shoppers can find contact information for the store. An email address and telephone number are displayed letting customers know the shop as nothing to hide!
Below the logo is an information panel hosting tabs that allows customers to become more familiar with the store. They can read up on upcoming festivals, shipping information and even view all the listings offered through the eBay shop.

The welcome pane of this eBay shop design greets the onlookers and customers with a warm welcome. A brief description of the store can be found under the welcome. The shop introduces their love of Renaissance, steampunk and pirate attire to festival goers worldwide!
In order to start viewing the inventory online shoppers can simply click the 'Shop Now' button to be guided to a wide array of hats and bags. If the customer is looking for a specific item they can look directly to the left for a search shop tab. Both clothing and inquires can be typed into this customized search field to add simplicity to browsing the shop!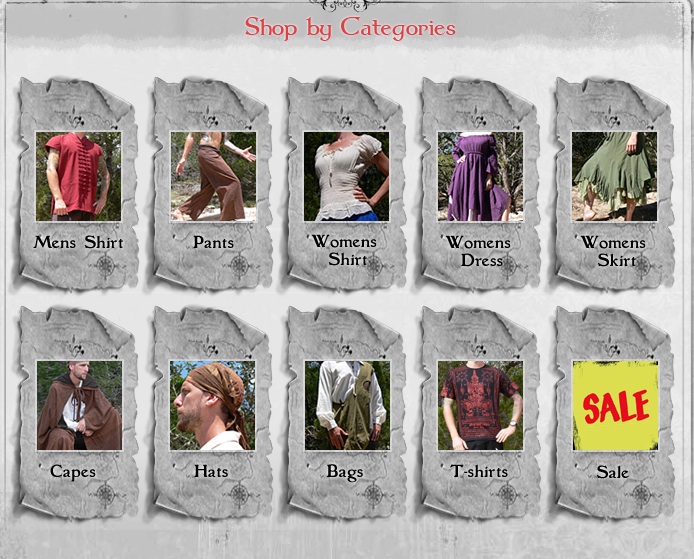 The footer of this eBay store design is custom designed to make shopping easier. Desired products can appear at the wisp of a cape! Individual tabs hold an image of an ancient scroll displaying the store category title. The graphic designers at OC Designs Online know that online shoppers are prompted to click on visuals. The tabs display a high resolution image that represent the shop category to easily guide customers through the eBay shop!
OC Designs Online invite you to browse our expanding portfolio and request a quote to learn more. We customize each one and make it specific to your store! Don't forget to look us up on Facebook, follow us on Twitter and check out our Google+ Page, too!