There are some things that handheld tools just can't tackle. Temperatures get drastic and in the Northern states snow plows are a necessity. Concrete saws and tree claws provide relief after unwelcome weather while mowers and brush rakes make tackling a big project a cinch. It's at Skid Steer Solutions that landscape and outdoor maintenance equipment is always in stock. The Ecommerce shop recently took on a new project of their own with a customized eBay store design. They found an eBay template that fit the shop in OC Design Online's wide array of custom selections.  Now, browsing the store and finding equipment has a personal touch that makes shopping enjoyable.

The header of this eBay shop design steers the store into having a strong brand identity. The name of the shop and store logo can be found on the left hand side of the main screen in a yellow, blue and white font. A mower graphic is used in the logo to give a visual of the store speciality!
Beneath the logo is a product information panel. Customers simply hoover their mouse over the tab of their choice and a list appears of all the categories and products within the main category listed in the panel. It's a simple click that guides online shoppers into the right direction.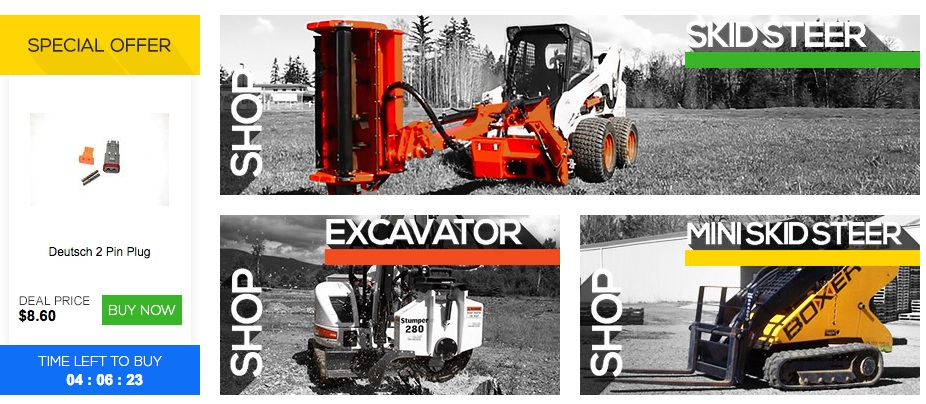 The midsection of this eBay store design helps break down product categories while highlighting products in the shop. The black and white photos keep the products in a vibrant color to keep customers staring at the top quality products!
A customized tab lies on the left hand side of this midsection. Customers will see the "Special Offer" tab and be introduced to an individual deal on a daily basis! This tab has a count down clock and a green tab to purchase the item instantly. This tab keeps customers coming back often to see if they can take off with a steal!

The featured eBay shop design has a footer that brings products to the forefront of the store. When a shop has a featured products section they're able to showcase sale items, products that might be easily missed while browsing the store or new inventory. A vibrant "Buy Now" tab lures shoppers to purchase on the spot!
OC Designs Online invite you to browse our expanding portfolio and request a quote to learn more. We customize each template and make it specific to your store!
Don't forget to look us up on Facebook, follow us on Twitter and check out our Google+ Page, too!