We live in a world that has no pause button. The errands to run never seem to fall completely off the to-do list. The morning alarm has a snooze button but in the end the clock is still ticking. Society is accustomed to having things now and not a second later. In an ideal world hardware and software run smoothly without any fail. To keep the energy alive and flowing people and companies turn to RefurbUPS. The eBay shop specializes in batteries and power protection all at a tremendous value. The shop recently called up OC Designs Online for a recharge of their own. The shop took on a personal, customized eBay store design that makes shopping simple and easy. Their nice little design boost has charged up sales and kept the power of refurbished battery supplies alive!

At OC Designs Online there's a wide array of eBay templates available for just about any company out there. The custom header of this eBay shop design puts information about the eCommerce store at the customers' fingertips. The logo can be found in the top left hand corner. The headline has been incorporated into the logo in a small black font helping build the brand identity.
White tabs line themselves across the store screen. Online shoppers can look into battery replacements, refurbished UPS systems, and UPS accessories. A customized panel lies below the white panel in a more noticeable red design. This panel allows customers to browse for specific batteries with the, "Battery Finder." Just select the application, the make and the model and customers are directed to their items of choice!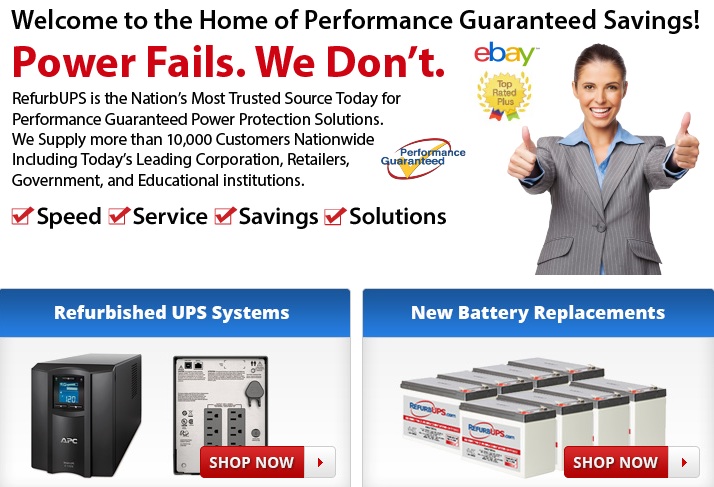 The welcome pane of this eBay store design gives the customer two thumbs up! The store greets online shoppers while explaining a little bit about the shop and what they excel at selling online through eBay. Two tabs lie below the main image and introduction to help customers sort through inventory. Category tabs are an excellent way to direct shoppers to the items that they need to purchase!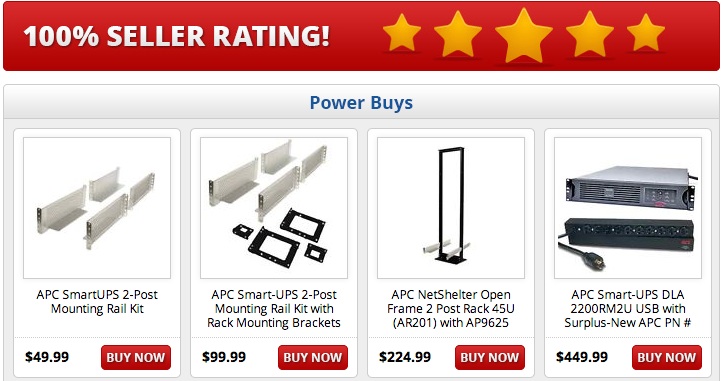 The footer of this eBay shop design has a custom tab that borders the lower section of the storefront. Customers will be reminded of the shop's 100% seller rating with golden stars that are impossible to miss! The 'Power Buys" section is the perfect area to place hot products and items that may sell quickly at the shop. A bold price and option to purchase instantly are both available at the bottom of each tab making checking out a breeze!
Take a moment to browse our portfolio and request a free quote. OC Designs Online makes a page custom for you and your shop!
Don't forget to find us on Facebook, follow us on Twitter and check out our Google+ Page too!