There's something special in receiving a new piece of jewelry. Silver cufflinks polish off a new suit. Shimmering earrings glisten in the overhead lighting completing the look to your new ensemble. Silver and gold heart pieces express the love you've felt for what seems like ages. No matter what the piece, MTG Silver carries jewelry that spark conversation and compliments. However, customers aren't the only ones leaving with a new dazzling appearance. The shop recently undertook some changes and now MTG Silver has a sleek new eBay shop design. OC Designs Online's wide array of eBay templates made it simple for a new polished look to come to life through the store!

The header of this eBay store design is simple and sophisticated with light neutral tones. A soft blue and grey font in the logo sets the tone of the shop. The information panel stretches horizontally across the screen. Online shoppers can read up on payment, shipping and online customer support with the store. If they're still not finding what they're looking for they can look to the top right hand corner. A store search tab allows the shopper to search for topics or items in the shop with ease!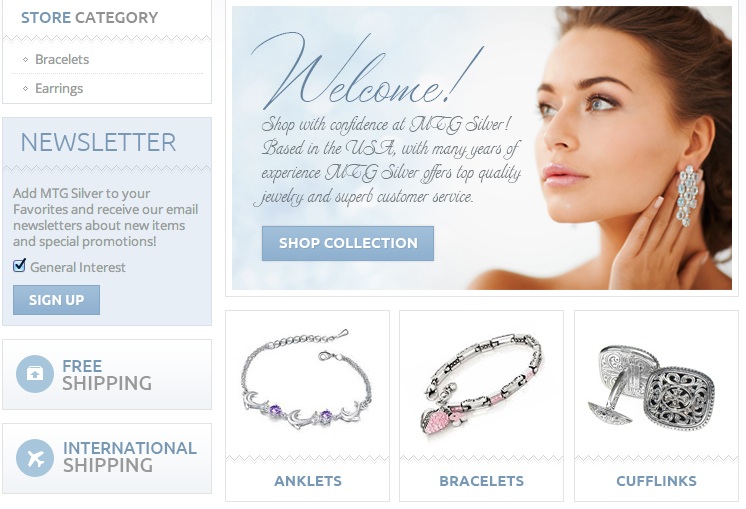 The midsection of this eBay shop design offers variety in tabs and access to store inventory. A warm welcome to the store can be viewed next to the beautiful image of a woman sporting a stunning silver earring. On the left hand side of the screen customers can find two tabs for providing easy access to silver jewelry. The top tab lists out store categories for simple, quick shopping. Shoppers can be guided to bracelets or earrings at the click of a button. Below the store category tab is a section for customer retention. Shoppers are given the option to sign up for the MTG Silver newsletter for email updates on new items and discounts at the shop! Shoppers will never have to be out of the silver loop!

A customized tab for the jewelry shop was added along the right hand side of this eBay store design. The tab was designed for weekly deals at the shop and for showcasing the options in each sterling silver purchase. A price is in clear sight along with a tab to "Shop Now" which will take customers directly to the item behind the weekly deal!
You choose the layout and OC Designs Online turns it into your sparkling image. Take some time to browse our portfolio of store designs, and then request a free quote. If you have any questions feel free to ask!
Don't forget to find us on Facebook, follow us on Twitter and check out our Google+ Page too!