Watching your cell phone battery deplete during your favorite concert can be both aggravating and upsetting. The older cell phones get the quicker the battery seems to vanish before your eyes. Accidentally dropping your cell phone only adds to the frustration. Accidents happen and when it comes to protecting and preserving your cell Kuteck comes to the rescue. However, when it comes to getting a simple, captivating storefront design for your eBay shop OC Designs Online proves to be the one! The graphic designers took Kuteck and transformed a simple eBay shop into a customized eBay store design!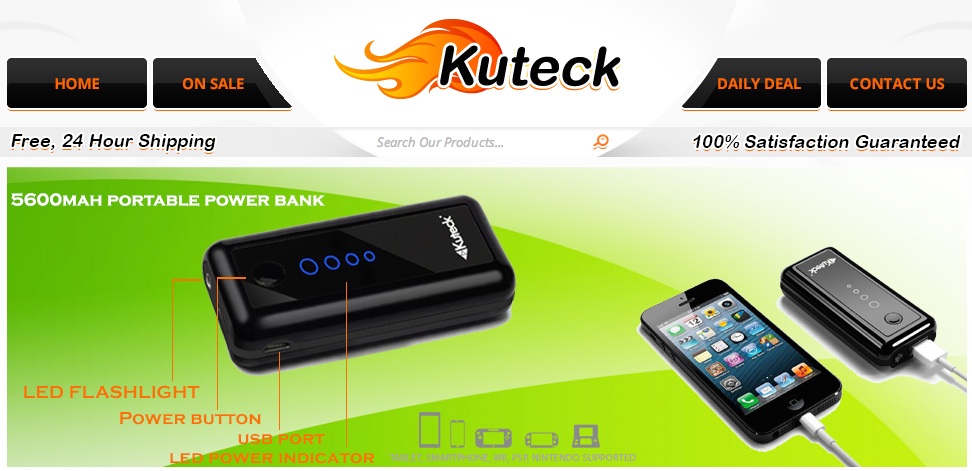 The header of this eBay shop design shows customers they can find flaming hot deals at Kuteck with the logo. A fire blazes from the store name making it impossible to overlook. The logo sits between 4 tabs that allow customers to become familiar with the shop. The two middle tabs are geared towards customers looking to find a deal. They'll find easy access to sale items and have instant access to the shop's daily deal!
Below the information tabs is a large graphic to introduce a top selling item to online shoppers. People who shop online are visual shoppers and the item set behind a vibrant green background makes the product pop from the screen! Orange text highlights functions behind the product and only lures customers in to finding out more.

The midsection of this eBay store design makes browsing the shop by cell phone brands a cinch! Whether it's an Apple product or something made by LG, there's a cell accessory for your device. The brand name can be found in a vibrant orange tab to make browsing the categories simple. A high resolution visual accompanies the brand tabs making it even easier to spot the device you carry with you throughout the day!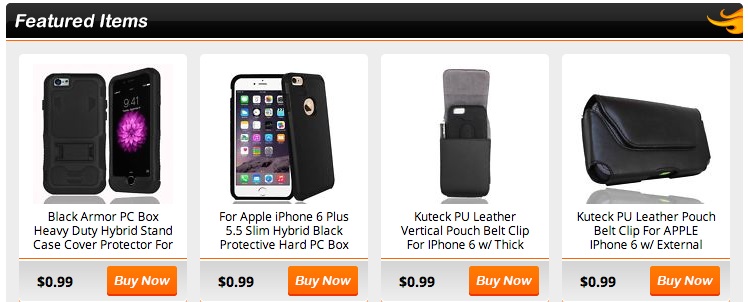 The footer to this eBay shop design kicks off with great deals that feel like a steal! The featured items are all priced below a dollar. The product tabs all include a visual of the product, a brief description, a solid price and an orange "Buy Now" tab to place the item in the mail!
OC Designs Online have a wide array of eBay templates to choose from on the site. Take a moment to browse our portfolio and request a free quote. You won't be disappointed. Also, don't forget to find us on Facebook, follow us on Twitter and check out our Google+ Page too!