The switch is pressed, the green light comes on, and the wheels start turning at an eye widening speed! The remote control vehicle world is a windy road. It's full of bumps, crashes and not so smooth sailing at times. After all, adjusting to the way your new machine operates can only be accomplished with trail-and-error runs. It's at Falcon Hobby Supply that parts can be found in the RC operator world. The store carries supplies for boats and planes to helicopters and jets. Whether it's by wheels or wings just make sure you arrive at Falcon Hobby Supply for their new customized eBay store design. The shop recently reached out to OC Designs Online for a new look and the store is now in tip-top shape!

The header of this eBay shop design has a red, white, blue and black layout. The colors pop from the black background making sure every word has a bold presence. The logo can be viewed in the top left hand corner. A visual of a fiery falcon projects from the logo to bring a visual to the store name. This builds a strong brand identity for the shop and makes the store name impossible to miss!
A grey information panel stretches across the right hand side of the header. Customers are able to browse the return policy, shipping information and details about the Falcon Hobby Supply shop! Below the information panel and logo shoppers can find perks with shopping at the eBay shop. Specific parts, sale items and requirements for free shipping are all highlighted at the top of the store!

The welcome pane of this eBay store design greets customers to the new shop. An image of a RC car and plane surround the welcome statement and bring a nice visual to the shop specialty. This custom eBay template provides a tab for a, "Daily Deal." The custom tab allows the shop to showcase a specific item for the day at a discounted price. The section houses a high resolution image of the item, a brief description, tab to see the item on eBay and a countdown as to when the sale ends.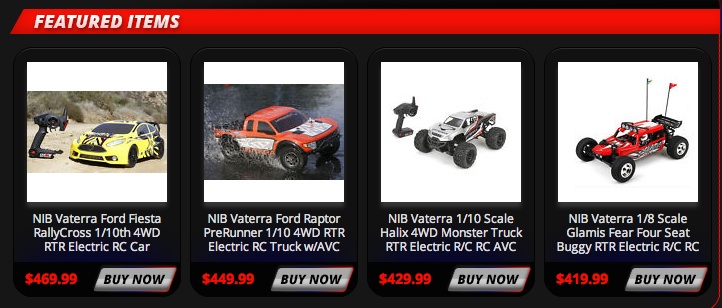 The footer of this eBay shop design spotlights specific items in the store. This area allows Falcon Hobby Supply to showcase items for sale, top sellers or perhaps products easily overlooked by customers. The price beams from the tabs in a red font and neighbors a tab to "Buy Now." Checking out with a new RC controlled device in a cinch and completed in mere seconds!
OC Designs Online invite you to browse our expanding portfolio of eBay listing templates and request a quote to learn more. We customize each site and make it specific to your shop! Don't forget to look us up on Facebook, follow us on Twitter and check out our Google+ Page too!