Today marks the first week of October and with that comes thoughts of pumpkins, witches and costumes. There's a month to prepare for Halloween and merely a few weeks to come up with the perfect outfit for All Hallows'Eve. The sexy witch and nurse require accessories from head to toe. It's at Fabulous Designers Warehouse where the costume vault is open and ready for inspecting new identities. FDW not only has a wide selection of Halloween costumes but they offer a variety of clothes and shoes for many occasions. The warehouse recently reached out to OC Designs Online for a howling good eBay store design. The storefront has been customized for easy shopping and simple searching!

The header of this eBay shop design is simple with a clean appearance. This allows for the store graphics and visuals to speak for the shop. The bold lettering in "FDW" make the store name pop from the screen. Below the store logo is a panel listing out store topics such as policies and FAQs. This arrangement of tabs will enable customers to become more familiar with the shop and allow them to feel comfortable purchasing clothing and costumes at the store. If they're still not sold they will see perks with shopping at Fabulous Designers Warehouse noted with bold grey bullets across the screen. Fast shipping and a large selection to choose from are only a few of the advantages at browsing FDW!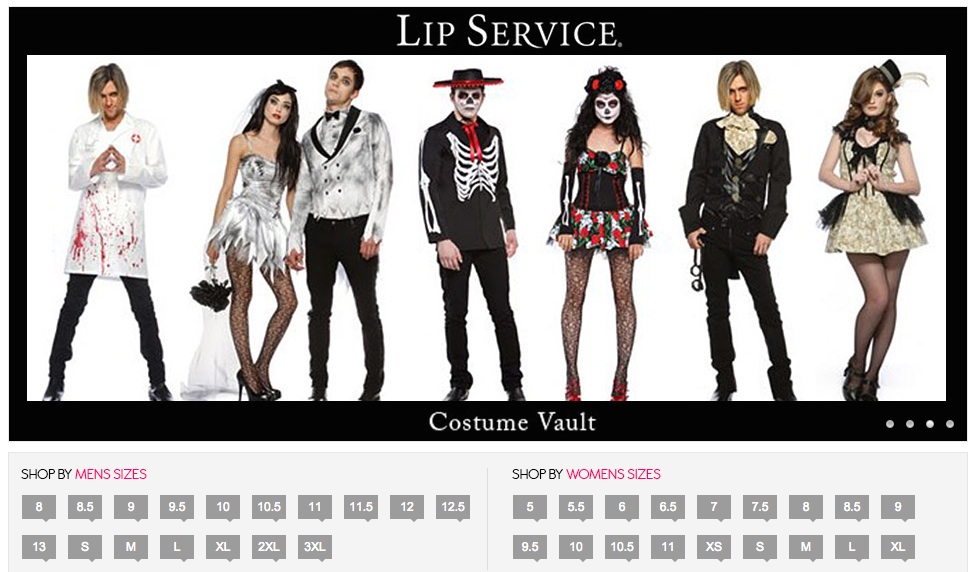 The midsection of this eBay store design has scrolling graphics for the shop. The one this image has stopped on is for the costume vault at FDW. Bride zombies and demented doctors grace the screen making online shoppers stand up straight in their seats. Below the image is a customized size section for browsing the store. Both genders have a tab that allows men and women to shop for their desired shirt and shoe size!

The footer to this eBay shop design highlights individual items in the shop. A separate hot pink "Deal of the Day" tab is one of many options in the customized eBay templates offered at OC Designs Online. The section can easily highlight sales in the shop, new inventory and items easily overlooked! The "Buy It Now" tab makes transforming oneself into a killer nurse so much easier!
OC Designs Online brings variety, fun and simplicity to shopping. Take some time to browse our portfolio of stylish store designs, and feel free to request a free quote.
Also, don't forget to find us on Facebook, follow us on Twitter and check out our Google+ Page!