There's a certain sound that is music to the ears of RC model owners and enthusiasts. The sound is heard when the device is turned on, fully charged and power floods the machine. Wheels start to burn rubber and propellers begin to cycle in a furious manner. It's the sound of energy entering your miniature RC model that makes adrenaline run and thumbs perk up. The RC model and parts enthusiasts at Atomik RC didn't want adrenaline to only run when operating your favorite model, but wanted adrenaline to peak at seeing top quality RC products at great prices. The shop teamed up with OC Designs Online for a new eBay store design. However, they didn't stop there. They went for the package deal and incorporated a responsive web design into the shop to easily reach customers through their tablets, smartphones and mobile devices! Checking out with a new RC accessory is as easy as navigating the machine around your favorite track.

The header of this eBay shop design alerts online shoppers that they're about to stumble upon some amazing deals! The yellow and black coloring in the logo make the store name noticeable at first glance. An information panel lines the top right hand side of the page allowing online shoppers to become more familiar with Atomik RC. Contact information, FAQs and store policies are within clear site and easily accessed from entering the eBay shop!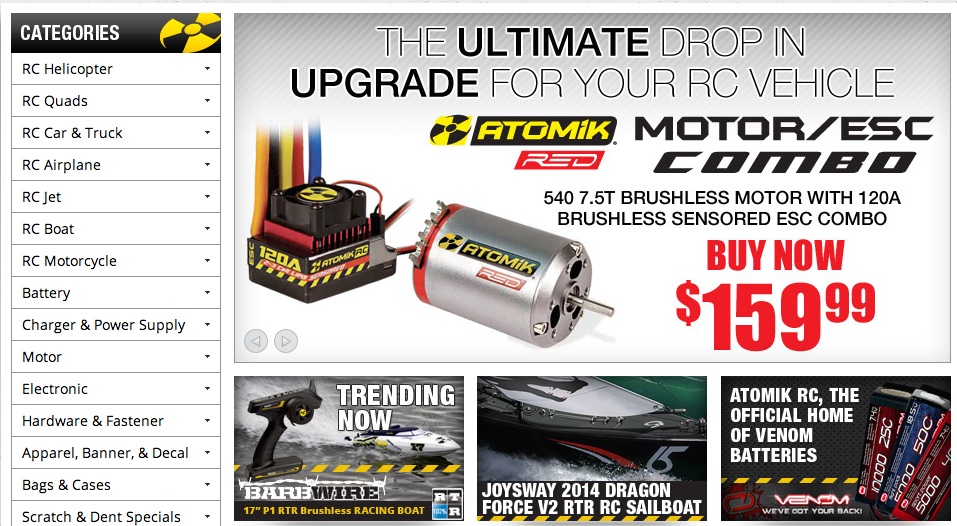 The midsection of this eBay store design brings out visuals, deals and brand names! The left hand side of the page hosts a column of tabs dedicated to simplifying a search in the shop. The column lists specific categories on the site enabling online shoppers to search for specific products. Products and prices are highlighted in the center of the page with deals beaming in a bright red font. Not sure what direction to head in? Just skim over the tabs below the main image. They are there to introduce customers to trending products, top sellers and batteries to keep the fun alive!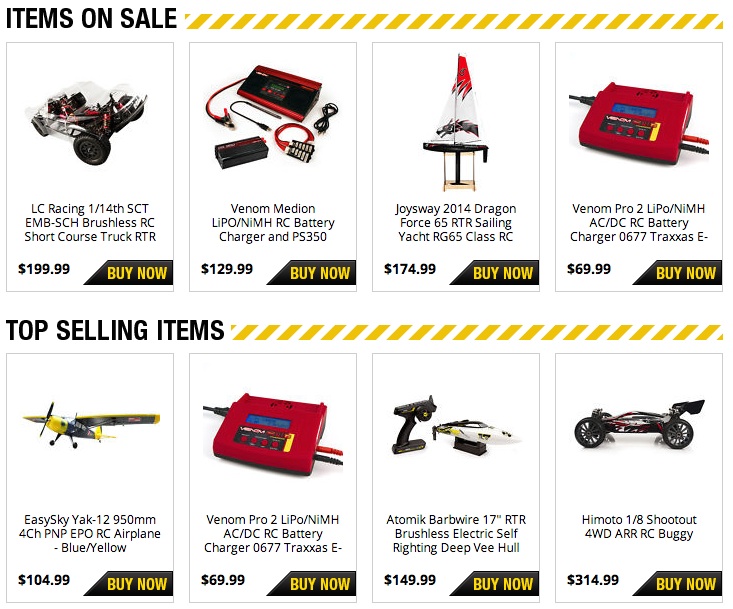 The footer of this eBay shop design has featured sections for product placement. Two horizontal panes line the screen for both sale and top selling items. The tabs have a visual for customers, a brief description along with a price and option to "Buy Now." Buying the battery of choice is only a button away!
Partner with OC Designs Online for a wide array of eBay templates that are RWD compatible with desktops, laptops, tablets and smartphones. The more reach you have with a clear and easy-to-navigate website the more sales you generate! Take some time to browse our portfolio of RWD store designs, and then request a free quote.
Also, find us on Facebook, follow us on Twitter and check out our Google+ Page too!