Did you know that the first mobile phone came out in 1983 and went on sale for almost $4,000? Today most smart phones have more computing power than the computers used for the Apollo 11 moon landing. Things in the cellular technology world change at an exponential rate and when they do it's easy to turn to Unlock Xpress Wireless. The cell phone and tablet accessory specialty shop has recently taken on a new, fun customized look through OC Design Online. The shop skimmed a variety of eBay templates and found an eBay store design that fit like a new phone case.

The header of this eBay shop design glows with the store name. The logo is designed in a blue and fire yellow font with almost a neon vibe to it. The "o" in "Unlock" has been designed to be a cell phone with a keyhole in the screen to mesh well with the store theme. Below the store logo is the shop's information panel. The panel blends with the digital background and lists out topics such as contact, store policies and FAQs. Customers are able to see that the shop is based out of the USA by view the tab in the center right hand side of this custom header. Below is a search field so that online shoppers can browse inventory and inquiries as easy as texting on their mobile device!

The welcome pane of this eBay store design sports the colors in the store logo. A vibrant orange and blue backdrop ties the store look together. The eBay shop greets online shoppers with a welcome along with a brief introduction to the store. Customers can't miss the circular white and blue satisfaction guarantee tab. It's a brief reminder that the shop is trustworthy and delivers the best, top quality products to their customers.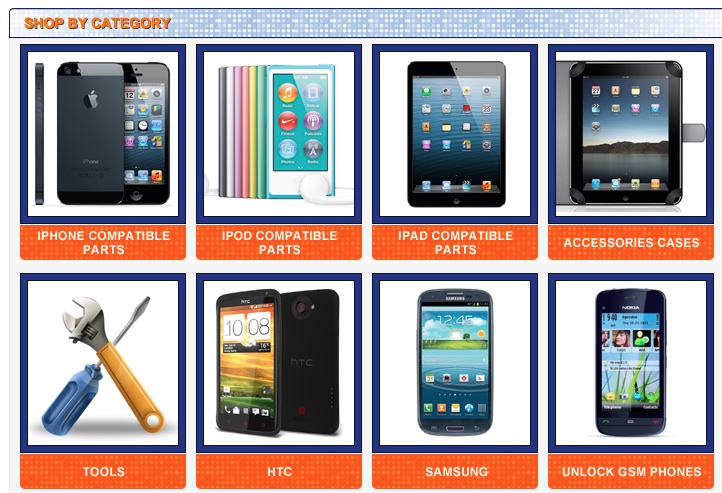 The footer of this eBay shop design makes it easy to browse specific areas of the shops. Device and brand names are listed so skimmed over desired inventory is a cinch! Each tab comes with a high resolution photo along with a title in an orange backdrop. Finding accessories for your cell phone or tablet has never been easier!
OC Designs Online invite you to browse our expanding portfolio of eBay listing templates and request a quote to learn more. We customize each one and make it specific to your shop! Don't forget to look us up on Facebook, follow us on Twitter and check out our Google+ Page too!