There's a certain thrill that rushes through the body when you speed off into the sunset on a speed boat. Goosebumps may overcome your body when you slide into your new luxury automobile for the first time. Walking into your favorite bar after work for happy hour might bring you a sigh of relief accompanied by a smile. However, once the sun goes down all three scenarios can become even more fantastic. Octane Lighting allows for taking a nice space and transforming it into a great one. Whether it's a speed boat, motorcycle, a bar or simply the kitchen of your house, Octane Lighting allows for a breathtaking atmosphere. The eCommerce shop recently roamed through OC Designs Online eBay templates and found a storefront that sets a perfect tone for the lighting specialty shop!

The header of the eBay store design sets the tone and lights up the store nicely. The Octane Lighting logo can be found in the top left hand corner in an eye catching neon blue font. The lettering is slightly italicized for a sleek, stylish appearance. Below the logo online shoppers can find an electric orange panel hosting a variety of tabs to introduce them to the store. Topics such as feedback, new products, and general information about the store can all be found in the tab answering a wide range of customer inquiries. However, if the customer isn't finding exactly what they want they can turn to the white search tab in the far right center of the welcome pane. Here customers can search for products or general information about the shop!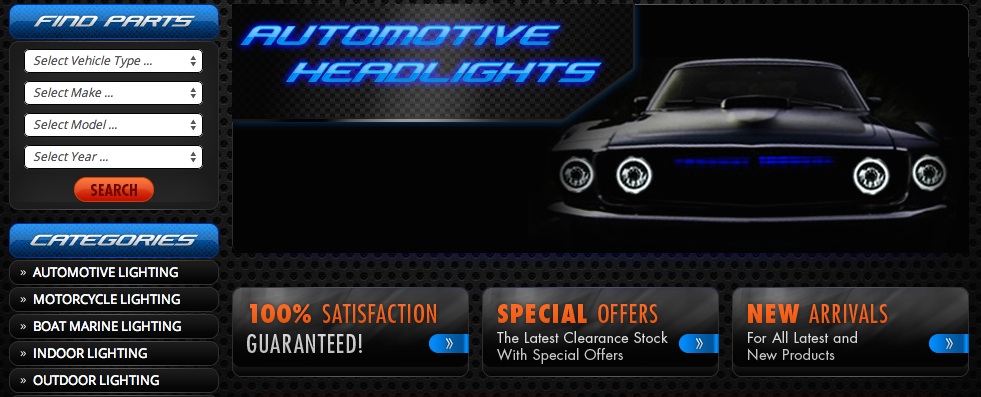 The midsection of this eBay shop design brings automotive headlights into the spotlight. The neon blue font matches the store logo keeping for a common theme throughout the shop. In the top left hand corner online shoppers are able to search for specific lights and parts. Four separate tabs are there and allow for customers to browse for select vehicle types, makes, models and years. Beneath the image of the decked out automobile are three tabs highlighting benefits with shopping at Octane Lighting. The store guarantee, special offers and new arrivals are in the electric orange font to make the offers glow from the page!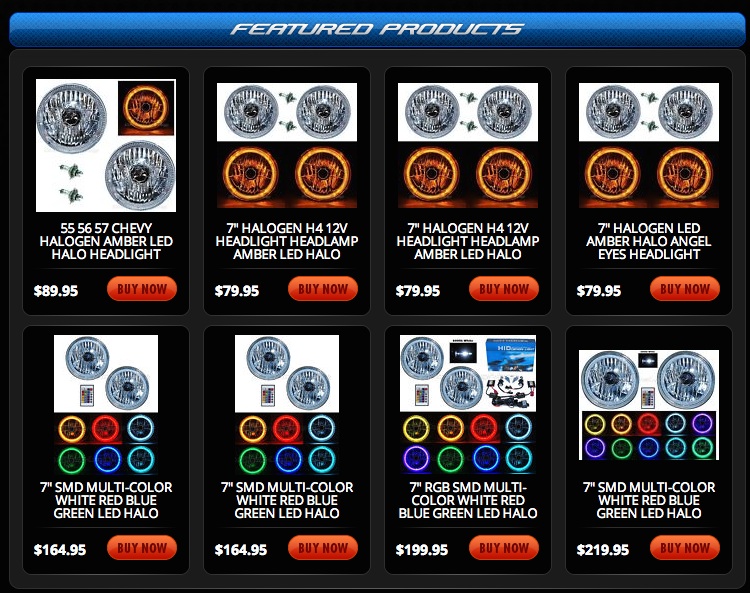 The footer of this eBay store design brings full visibility to select products. The featured products section highlights select products along with an item description, price and tab to purchase the product instantly!
OC Designs Online has a eBay shop design for any product and any occasion. You choose the layout and OC Designs Online makes the storefront shine. Take some time to browse our portfolio of store designs, and then request a free quote. If you have any questions feel free to ask!
Don't forget to find us on Facebook, follow us on Twitter and check out our Google+ Page too!