Where should you go for dinner tonight? Should you get the blue shirt or the red shirt? What destination should you choose for your big 2015 vacation? Many people struggle with being indecisive. Sometimes having too many great options can lead to not choosing anything at all. However, when all the options are sweet, tiny and chewy and they come by the sackful the answer can be pretty easy. You can have a taste of everything at the Jellie Bean candy shop! The candy shop just partnered up with OC Designs Online for a bright and colorful eBay shop design. Jellie Bean skimmed through a wide array of eBay templates and found a tasty design that makes shopping for candy and ice cream fun and enjoyable.

The header of this eBay store design gleams from the page with vibrant colors. A bubble gum pink background is glittered with peppermint and stars that is sure to grab the attention of both children and adults. The logo can be found center stage with a jellie bean cartoon to create a fun brand image for the shop. Below the logo online shoppers can find tabs to help introduce them to the shop. Topics such as feedback, FAQS, and contact are highlighted in a light blue font across the page. Get a taste of what Jellie Bean candy shop has to offer at first sight with this eBay shop design header!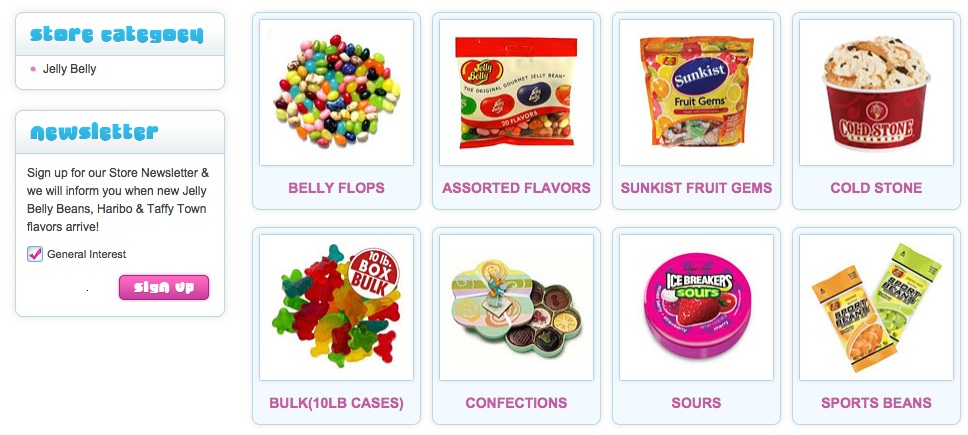 The midsection of this eBay store design brings products into the spotlight. Six individual tabs section out the shop to make browsing the store easy and simple. Online shoppers are visual shoppers which is why each photo is clear with high resolution. Directly to the left is a newsletter tab. By simply clicking the pink "Sign Up" tab customers are prompted to input their email address to stay in the loop of Jellie Bean. They'll get weekly reminders on deals, new candy and sales at the candy shop. Weekly reminders will be a flag to wave them and their sweet tooth into the customized eBay shop for their favorite treats!

The footer of the shop mirrors the header keeping with the common candy theme. The logo is placed in the center with social media and payment option tabs placed directly to the left and right. Staying connected and checking out has never been easier!
OC Designs Online brings variety, fun and simplicity to shopping. Take some time to browse our portfolio of stylish store designs, and feel free to request a free quote.
Also, don't forget to find us on Facebook, follow us on Twitter and check out our Google+ Page!