Everyday typically begins with a routine. Men and women wake up, stretch, and often head to the bathroom. Teeth get brushed, showers are had and the hair is teased and tossed into just the right position. Once the grooming is complete it's often time to decide on the wardrobe. Days where you feel sexy both with your outward appearance and underneath your most admired dress are the days where you can feel unstoppable. Bras4Beauties is an eBay shop that helps ladies find their favorite undergarments. Bras, panties, singlets and stockings come in every shape of sexy. The new eBay shop design is simple and sleek. Getting checked out head-to-toe is as easy as checking out through the easy to navigate store!

The header of this custom eBay store design is decorated in various shades of pink for a feminine touch. The store logo can be found in a fun black font. A silhouette of a woman is placed between "Bra" and "Beauties" in the store name. A delicate line of pink drapes over the silhouette to mimic the number "4" to complete the store name. To the right of the name is the store's satisfaction guarantee policy. Customers are reminded of the top quality customer support and clothing at first glance.
A vibrant pink panel runs across the header of the main page. The information panel hosts various tabs to further introduce online shoppers to the shop. They're able to read up on sale items, FAQs and view all of the shop listings at one simple click!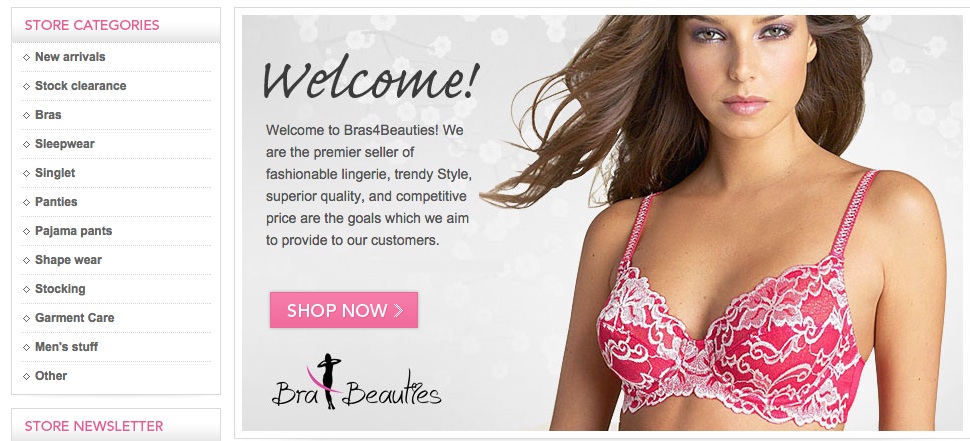 The welcome pane of this eBay shop design has a beautiful brunette model wearing a sultry pink and white bra. Neighboring her and to the left customers can find a welcome from the store along with a pink tab to "Shop Now." The store logo is placed beneath the tab to keep a strong brand image throughout the storefront. Along the left hand side of the midsection is a vertical panel hosting category tabs. This simplifies browsing the shop and makes skimming pajamas and clearance a cinch!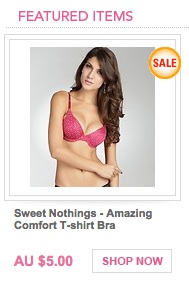 The footer of this eBay store design puts the spotlight on the shop's featured items. This section has a customized "sale" tab in the top right corner to feature discounted items on the shop!
OC Designs Online invite you to browse our expanding portfolio of eBay templates and request a quote to learn more. We customize each store design and make it specific to your shop! Don't forget to look us up on Facebook, follow us on Twitter and check out our Google+ Page, too when you have a moment!