The joy of biking and cycling often begins at childhood and for many extends into adulthood. By adding a bicycle into your daily, weekly or even weekend schedule things often become more enjoyable. It allows you to enjoy the outdoors more, reduce your carbon footprint and get exercise. It's also been proven that no other activity beats cycling when it comes to expending so little energy for so much self-powered travel. Bell's Bike Shop, an ecommerce store that specializes in bike supply, has recently teamed up with OC Designs Online to make finding and personalizing bikes a cinch. They browsed an endless array of eBay templates and after partnering up with OC Designs Online received a customized eBay shop design that fit the shop just like a glove!

The logo can be found in the top left hand corner of this eBay store design. The letters and font are in two shades of green to make the store name stand out and grab the shopper's attention. Below the logo is a panel in a deep charcoal grey. The panel hosts tabs that enable the online shopper to become more familiar with Bell's Bike Shop. Everything from shipping information to return and exchange policies are addressed in the panel.
We've been in scenarios where it's difficult to find exactly what we want in a store. That's why this eBay shop design has a search tab. The tab, which can be found in the right hand corner, allows online shoppers to browse both inventory and search for common subjects if there are any unanswered questions.

This eBay store design also comes with a panel that highlights great reasons to shop with the store. The green and grey section acknowledges the stores free shipping policy, expert staff and satisfaction guarantee. This section along with the "Feedback" tab in the header above enables customers to feel comfortable with the shop and know they they're dealing with a top notch cycle supplier!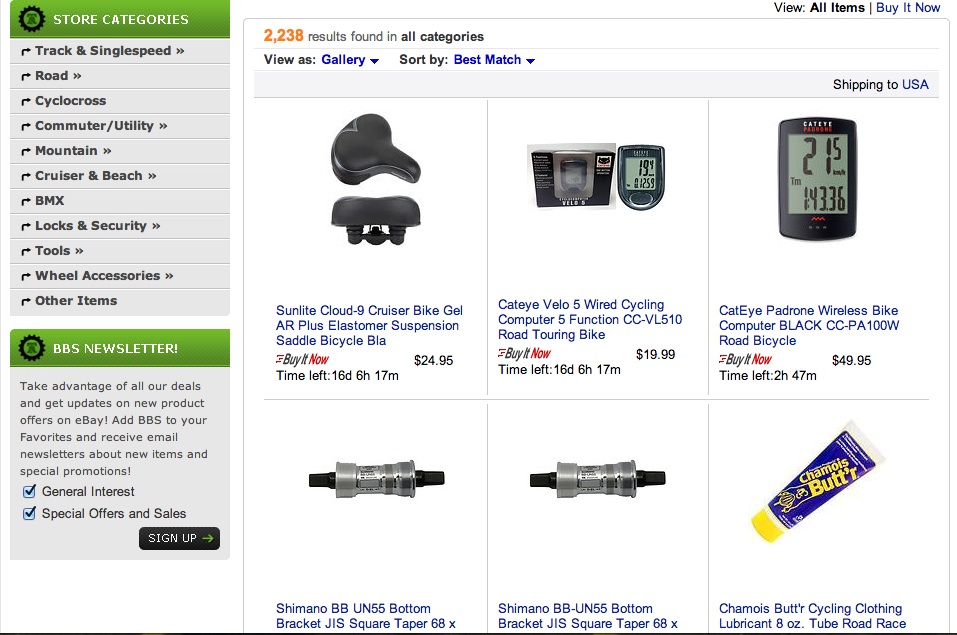 There are a variety of eBay templates to choose from that offer variety and product exposure. This design features popular products in the shop and gives online shoppers the option to "Buy it Now." To the left are two custom panels dedicated to store categories and a shop newsletter. By signing up with a newsletter customers are able to receive weekly reminders to browse new products and daily deals!
Take a moment to browse our portfolio and request a free quote. You won't be disappointed. Also, don't forget to find us on Facebook, follow us on Twitter and check out our Google+ Page too!