It's a bird, it's a plane, it's…Go Nitro Hobbies!
No matter what your preferred mode of transportation, these pros have you covered when it comes to model air and watercraft. Simply need a swatch of paint, battery packs/chargers or individual part? Not to worry. They've got the goods to get your model vehicle back up to speed.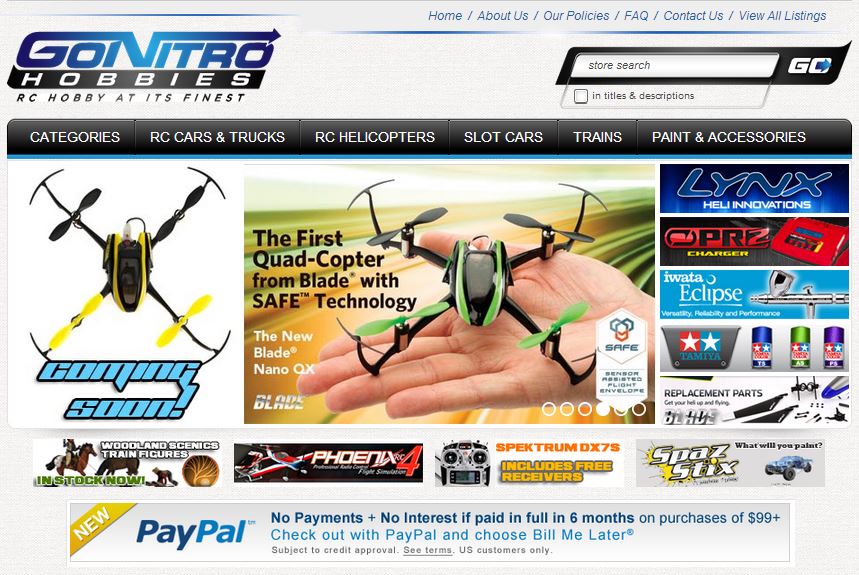 With so much inventory in stock, Go Nitro Hobbies' main concern was presenting a layout that is representative of their large selection, yet easy to navigate.
To achieve this, company information, policies, FAQs, and contact information links are all grouped right of the logo, while a search bar sits below. This frees up space on the main navigation pane for the site's plethora of category listings including specific tabs for cars, trucks, helicopters, trains and accessories.
The main feature utilizes a rotating display of inventory solutions for the hobby enthusiast. The fixture is surrounded on its two free sides by a variety of brands and images representing high quality product lines.
To help aid customers with the expense of their hobbying, a PayPal banner is employed as a reminder of the new 'bill me later' option which offers no payment and no interest on purchases over $99.

A vertical listing of several store categories appear on the left hand ad-space, along side a section of featured items which may be of particular interest to the seasoned hobbiest.
It's a cinch for the most interested buyers to add the site to their network of favorites and join their newsletter for great deals on special offers by clicking anywhere on the grey panels lining the top of this section.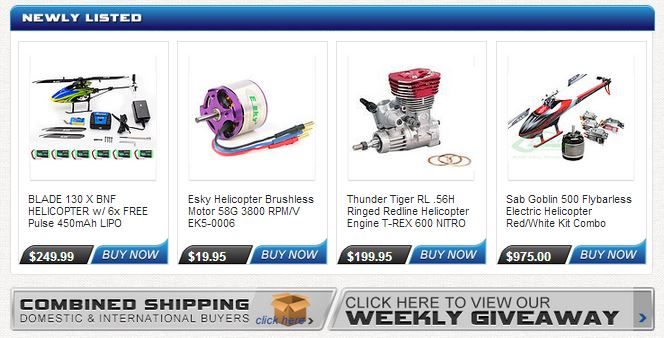 However, newsletter isn't the only way to find out about new products. Shoppers may simply scroll down to the site's midsection which promotes 'Newly Listed' offerings.
Below, offers for combined shipping and a weekly giveaway further enhance the shopping experience.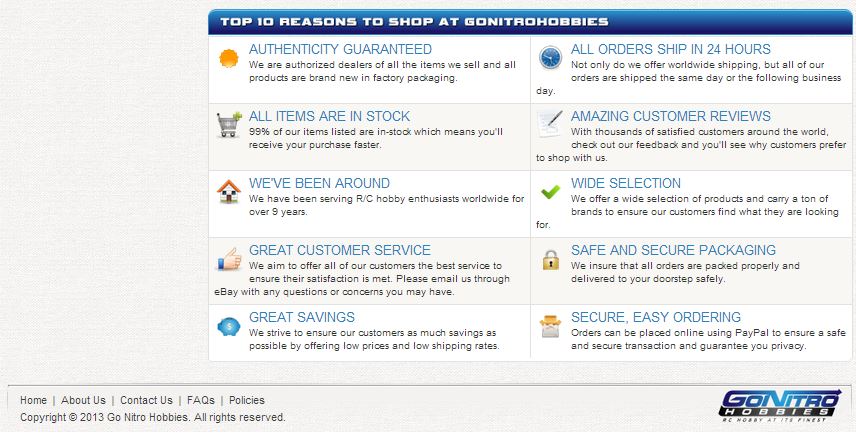 Should buyers need additional incentive to part with their hard earned monies, the site aptly outlines a highly compelling list of the top ten reasons to shop with Go Nitro. Gathering and displaying these key selling points is an effective way to market your services and set yourself apart from your competitors.
With eBay making so many changes, now is the time to customize your eBay store design! We invite you to browse our portfolio and be sure to like us on Facebook where we reveal many of our eBay designs, logos and websites.
Be sure to follow us on Twitter and be sure to find us on Google+!